Two days ago, we had reported that, Yahoo! had introduced special new shortcuts in Yahoo! Search that would be related specifically to information and news coverage of the 2008 Summer Olympics.
Hot on the heels of Yahoo! Announcement, now evenMicrosoft has announced that, in association with NBC, it will be providing Olympics 2008 news, results and all other relevant information via the Live Search.
Starting with medal tally. As per the Live Search Blog, "We've made it easy for you to find out if your country is ahead or behind – just search for "Olympic medals" and you'll get up-to-the-minute tallies by country"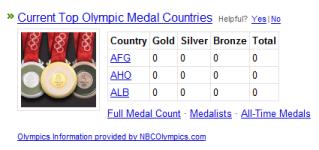 Users will also be able to view country or sport specific medal positions .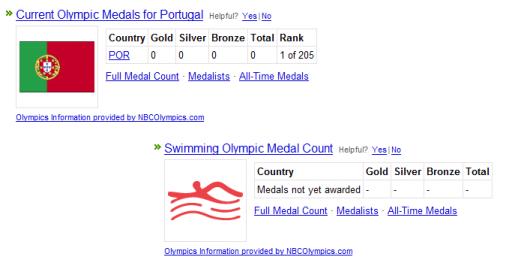 Apart from medals and results, if you want to know more about the Olympics such as trivia, facts and other related information, then you can always view the Olympic xRank.
According to the Live Search Blog, "If you hear an athlete's name or want to find out why you keep seeing their face on your co-workers' monitors, try our Athlete Answer"

Now, that Yahoo! and Microsoft have jumped into the Olympics race, its about time that we heard something from Google as well.