In an attempt to encourage searchers to use Bing more, Microsoft has come up with a great idea recently. Microsoft announced a "Bing stimulus package", which is a Cashback program as per which searchers will get cashback rewards as high as 50 percent upon purchasing products from select merchants. The cashback offer starts 10 August for a limited time.
Earlier, Microsoft had offered cashback up to 35 percent, but this time searchers are offered with almost double cashback as compared to before. To get the rewards, searchers out there need to search for what they are looking for at Bing. After entering your search, look for the Cashback rewards icon on the search ads. Then follow the steps as shown there in order to get up to 50 percent back.
Here is a screenshot of a search for "GPS Receiver":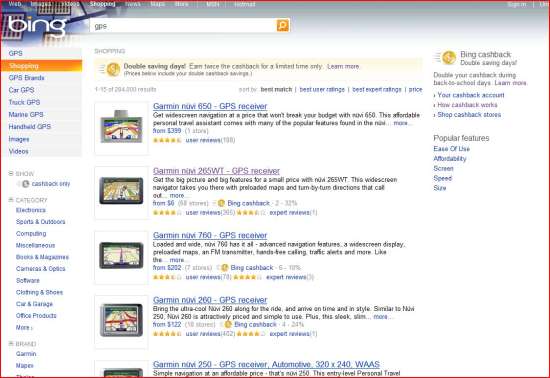 Did you enjoy this article?
Get FREE Updates
Get SEO, Social media and digital marketing updates straight to your inbox.