Microsoft has released yet another version of its Live Search, taking into consideration critical data such as user research, customer feedback and other data as well. However, this time MSN's focus has been entirely on the design of the Live Search. According to the Live Search Blog, the new version will greatly enhance user search experience and has also been given a face-lift.
The new, more refined look of the Live Search has been attributed to new and improved iteration, interactions, visuals designs and layouts. The main principles behind the new Live Search are:
Simple & Powerful: The ability to provide information and tools as and when required by the users and giving right amount of information, without overwhelming the users with large volumes of data.
Touch of Humanity: MSN realizes the fact that its targeted audience are humans and thus, everything it creates has to appeal to them.
Speed & Relevance: The Live Search results should be fast, accurate and precise. So as to save the user's time, at the same time delivering data that has been requested.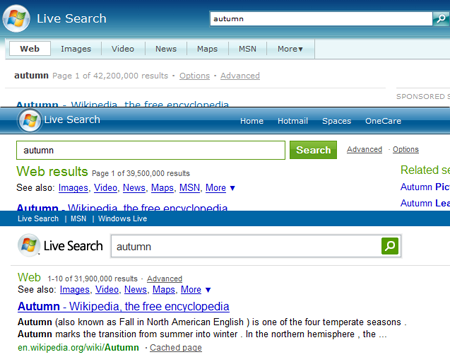 Changes that have been incorporated in the Live Search:
Search Box gets Closer: The headers and the search box have been moved closer to the search results thereby eliminating the visual hurdles that users were usually facing while looking for the search box.
Compact Page: The search pages have been set with a fixed-width that enables a cleaner and more compact visual of the search pages.
Colors & Fonts: Live Search has also been renovated in terms of fonts and colors used. A new color palette with an 'Arial' provides a richer and vibrant search experience.
Enhanced Video Search: The video search feature of Live Search has been given a face-lift as well. Unnecessary pixels and text have been removed and the 'preview' function for the videos has been improved as well.
Health Search: The health search feature will now enable users to collect health related information from various resources and view them at the same page.
When I visited Live Search lately, these new features indeed looked good on the webpage and the search improvements are also quite user friendly. Microsoft has done a commendable work with this new release. However, it still remains a topic of debate that, whether all this beautification is enough for MSN to compete with the simplistic Google Search.