To the uninitiated, in November last year, Microsoft had launched the Live Search Webmaster Tools and since then, the tool has been running in BETA mode.
However, now Microsoft has announced, that it has finally taken the Live Search Webmaster Tools out of BETA and has updated this tool with some significant additions. These new features are aimed at providing the Webmasters with more in-depth information as to how their websites are crawled and indexed by Live Search.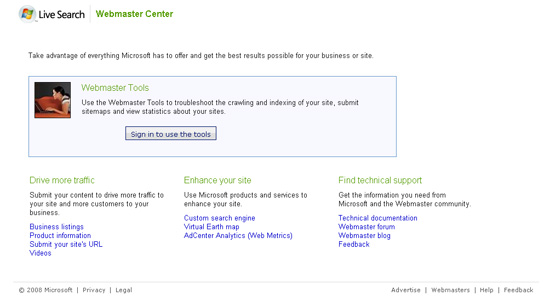 According to Microsoft, "Today we are bringing our Webmaster Tools out of beta and releasing several new features that help webmasters see how Live Search crawls and indexes your sites. As a website owner, you can use these tools to improve your results on Live Search when a someone is looking for your site. The new Webmaster tools give you more data about referring links, identify issues Live Search encountered when crawling your site, and help you improve the overall indexing of your site." .
Here are the new features incorporated via the update:
Discovering and Informing Webmasters of Website Related Issues:
Microsoft has provided the Live Search Webmaster Tools with a new and a unique feature known as "Crawl Issues." With this feature, the tool would be able to discover and inform the Webmasters about the issues plaguing their website. Some of these potential issues are:
File Not Found (Error 404).
Blocked by REP (Robots Exclusion Protocol).
Long Dynamic URLs.
Unsupported Content Formats.
As per Microsoft, "For each issue, we return the URL and the data we last encountered it."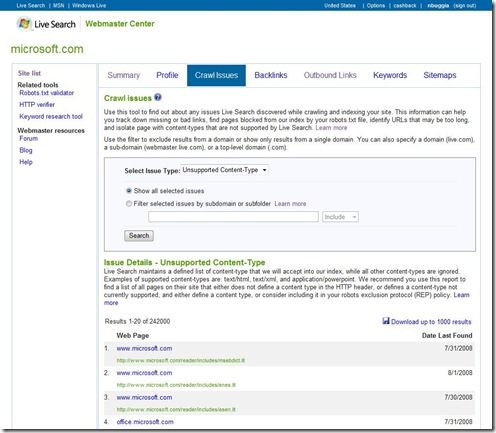 More Backlink Data:
Live Search Webmaster Tools will now be able to provide more details than it previously did about a Webmaster's referral links. According to Live Search Webmaster Blog. "Information about backlinks is useful as they influence the rank of a site. It's also helpful for web publishers to know what sites link to them since these pages discuss the products/organization and identifying them can be valuable as a means of finding sources of promotion or feedback."
More Options for the Webmasters for Actionable Data:
Live Search Webmaster Tools has been improved significantly, as far as providing new and old reports to Webmasters is concerned. These improvements include:
Advanced Filtering: With new and dedicated filters in the Webmaster Tools reports, Webmasters can now easily access the desired data, instead of going through all the details to find what they are looking for.

Download Data: Now, Live Search Webmaster Tools will also enable the Webmasters to download the first 1,000 results in .CSV format or in the form of an Excel file.
It had been a long time coming and with this new update, the Live Search Webmaster Tools can surely prove to be a tool for the Webmasters looking to get their websites ranked higher in Live Search. For those of you interested in using this service, all you have to do is to visit the Live Search Webmaster Tools and sign on with your Microsoft Live or Hotmail ID.