Google advertisers can now target ads based on devices and carriers of the users. This will enable better results if the messages delivered are device or carrier specific too. For example, if a certain ad is designed for iPhone users then only they will be receiving that ad while, android phone users will not get it on their phones. This is achieved by optimizing the landing pages for specific devices and carriers.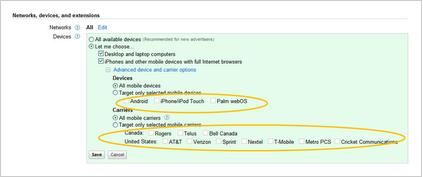 Apart from this, Google has also allowed its advertisers to market their mobile applications along with their ads on the iPhones and Android phones via Google AdWords. The users can now download these mobile apps in the iTunes App Store or Android Market options by directly hitting the 'Download' link provided with the mobile ads. There will be no URLs now. Advertisers need to include 'itunes.apple.com/' or 'market.android.com/' followed by the app name in the ad's visible URL. This will automatically display as 'Download iPhone App' or 'Download Android App.'
This is another indication of Google's intent to have a fair share of the Mobile marketing industry.