Microsoft has now added Explore Pane, a new feature in the search engine Bing. The feature is one of the ways to improve the pattern in which search result pages are organized. It will bring more order to the pages by providing helpful tools in consistent location across the Bing. With Explore Pane, you will be able to navigate different results for categories like web, video, news, local, image and more.
Extensive research was done by experts for planning Bing. It was found that 66% users make search more frequently to take a decision about a particular thing, community or service. They spend more time reading the decision oriented sessions with an average time of 9 minutes per session. Thus, it was concluded that an improved page organization will help users in quickly getting what they are looking for and it will have a big impact.
Explore Pane
It contains three set of tools:
Quick Tabs
These provide a set of 1-click links and narrow down the search results into specific sub-categories for initial search term. The sub-categories are a set of most likely next steps involved in the search process. Quick Tabs are made with algorithms within the sub-categories for a topic area that could range from cars to homes. The selection of Quick Tabs will different for every category.
Related Searches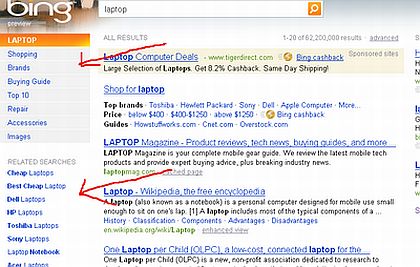 You will get a list of other related and exploratory searches through this tool. The related searches can sometimes be helpful for finding related topics. While the Quick Tabs help in narrowing a search results and exploring tangential topics of interest.
Search History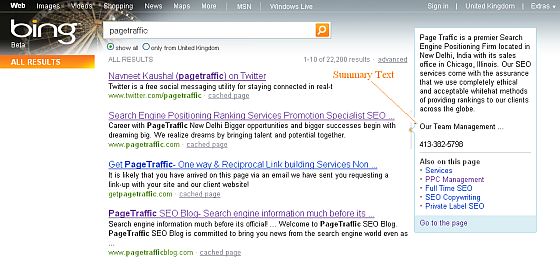 You will get a direct access to the searches performed in a particular search session with this tool. It will help you in revisiting the earlier queries and sharing search results through IM or Facebook.
There are chances of you not finding Quick Tabs and Related Searches tools for specific and "tail" queries. However, "head" queries will always be shown with all the three tools.
Finding Explore Pane
You will see the tools present in the left hand pane of the page while using Bing. The experts did extensive user testing and concluded two things:
The Explore Pane feature was helpful and should be marked as a permanent feature on the page.
The left pane was an ideal location for the tools as this is highly accessible from main results without causing much distraction.
The Dynamics of Explore Pane
All the three tools of Explore Pane are unique in their own. The content of Related Searches and Quick Tabs vary for every type of query and the Search History tool is unique for users.