The MSN Homepage is out with a new, streamlined and less cluttered look. While marking another milestone in the history, the MSN team has finally succeeded in making a page that is easier to navigate and is filled with services that web users need on daily basis. You can now get information about online videos, sports, lifestyle, news, entertainment and Bing search experience all-together on the MSN Homepage.

The Bing is integrated in all the key areas of the page like travel, shopping, local and for highlighting hot topics, people or trend. If you are looking for detailed local information, it will be available on the new MSN local Edition, the only local online source with a combination of Bing search and real-time community news. The information here is grouped on the basis of ZIP code.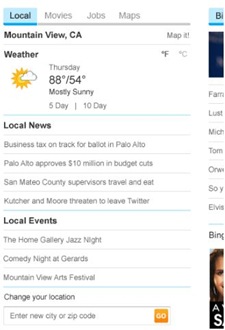 The new MSN homepage also gives you the freedom to in contact with your friends on social networking sites like Twitter, Windows Live and Facebook.
The preview of the new MSN homepage will start rolling out on November, 2009 and it will be available to more than 100 million U.S. customers only by early 2010.
The MSN team is also encouraging people to try out the newest addition and give feedback.
The New MSN Homepage with Bing Search Package is Out!

,