MSN Live Search has added some new features to its Live Search. Besides the fact that most of the search results by Live Search end up pretty much as what the user is looking for, still Microsoft wanted to refine the user search experience. According to the Live Search Team Blog, the MSN Live Search has a fresh new look and has also focused on website suggestion features. It now looks for more relevant results by delving deep into the search results. The update to the Live Search will now enable the Live Search Crawlers to burrow deep into the search results to dig out and suggest relevant sub-pages in accordance to the search query. This feature is quite similar to 'Google Sitelinks' where search results included a set of links below them to pages within the website. This feature that has now been incorporated in Live Search Results analyze the search results and find suitable shortcuts enabling the users to find what they are looking for without investing a lot of time.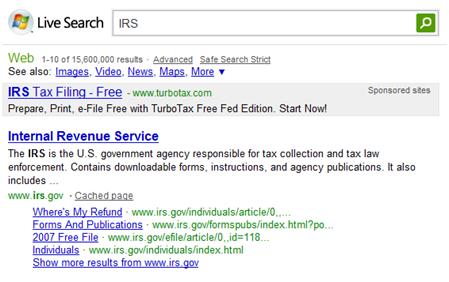 The new features, also incorporated in Live Search Products give the users an option to refine their searches based on user opinions, brands, category and price range. These options are visible on the left side of the Live Search Products home page. Users now also have the flexibility of comparing prices, user ratings and can also view the reviews of selected products.
It seems like these updates have come in the wake of many updates and features that have been released by both Google and Yahoo!. Hopefully, these new updates will put Live Search back in the competition. Honestly, MSN Live Search has been lagging behind these two for quite some time now.
MSN Live Search Releases New Features!

,