Google has introduced a number of translation bots to their chat software named Google Talk. This was announced by the Google team in one of their blog post. This new bot which is a piece of software acts as a chat contact and provides some useful functionality. Suppose you are trying to chat with someone who does not know your language, then with the help of this new bot whatever you type it will be translated and repeated in another language. The new feature will prove to be quite handy during group chat when you want to have conversation with someone in another native language.
The bot can be used as:
an interpreter in your group chat, or
as a pocket translator in your Google Talk client.
It is simply up to the user how he wants to use it. To try this feature yourself, invite en2zh@bot.talk.google.com and simply open a chat with it. You need to send a message to translate from English to any other language, say Chinese.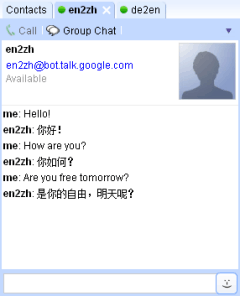 Apart from this, there are 23 other translation bots for different languages. The other supported language pairs are, according to Google: ar2en, bg2en, de2en, de2fr, el2en, en2ar, en2de, en2el, en2es, en2fr, en2it, en2ja, en2ko, en2nl, en2ru, es2en, fi2en, fr2de, fr2en, hi2en, hr2en, it2en, ja2en, ko2en, nl2en, ru2en, uk2en, ur2en, zh2en.
With this translation bot, you can share your thoughts with different peoples from different countries of the world, as now you can understand their native language.