Yesterday Google announced the launch of its two new related Google Analytics features: a beta version of industry benchmarking and a data-sharing settings page. Further, from now on the Google Analytics will also have the ability to measure the performance of Audio Ads.
The Google Analytics blog states that, with Google Audio Ads, the advertisers can now see how their campaign metrics for impressions, ad plays, markets and CPM correlate with their website traffic data provided by Google Analytics, such as conversions, revenue, and transactions. Customers can see if their audio campaigns resulted in greater amounts of traffic and conversions on a regional basis.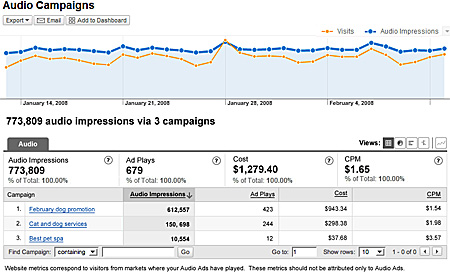 How to use the Audio Campaign report?
For an advertiser to be able to access the Audio Campaign report, he/she would need to have the AdWords account containing the Audio Ads campaign linked to the Google Analytics account.
If you want to access the Audio Campaigns report from your Analytics account, please follow these steps:
Sign in to your Analytics account at http://www.google.com/analytics.
Select the profile that contains the website related to your audio ad.
Click Traffic Sources.
Select AdWords, then Audio Campaigns.
If you've linked your AdWords account to Analytics, you can also access the report from the Analytics tab in your AdWords account. However for the time being, the Google Analytics for Audio Ads is exclusively available for U.S. users only.