Google News seems to be racing in to expand its news sections and make it more customized by offering a Local News area which shows up news depending on the locations of the users, observes Loren Baker. This new feature from Google News comes up just as Ask has launched BigNews, its own News portal, see: Ask.com Launches BigNews!.
After you visit Google News and sign in to your account it serves you with a text box where you can enter your city, state or Zip code to get filtered stories.
We keyed in the Zip code of Chicago, that's where our sales office is located, "60647," and it came up with localized results.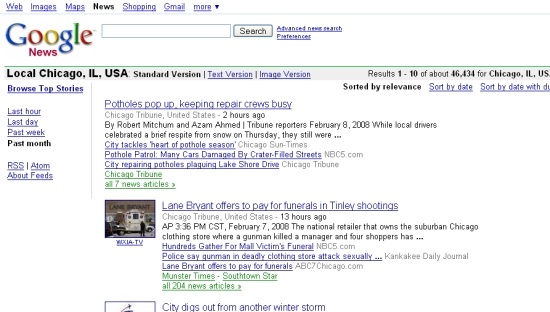 You can even set up a URL easily to get local results, it is: "http://news.google.com/news?geo=60647"
You can change the results by replacing the Zip code itself, or you can even type in the state or your country to get localized results.
E.g China: "http://news.google.com/news?geo=china"
Las Vegas: "http://news.google.com/news?geo=las%20vegas"