Recently, I had informed our readers about the new Search Volume Numbers, that Google had incorporated in the Google AdWords Keyword Tool. Now, what I came to realize from this new Google move was that, by displaying approximate search counts or search volume numbers, whichever way you want to see it, Google has effectively rendered the paid keyword tools such as 'Keyword Discovery' and 'WordTracker' almost useless.
I did a quick comparison for a set of keywords we are working on for a client. You can see the stark difference in numbers of search reports by both Google and WordTracker below

Google AdWords Keyword Tool with ' Search Volume Numbers' indicator: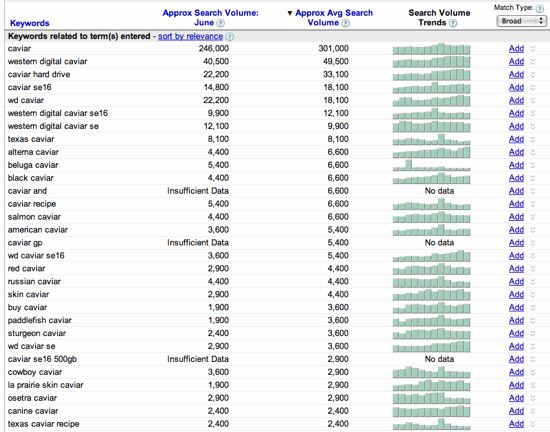 Google has been in the process of coming up with launches and updates to its services that have been designed to deliver the relevance and importance of keywords. I had also put up a post in October last year, providing our users with valuable information about the 10 Best SEO Keyword Selector Tools. Similarly, Google had issued an update for Google Trends, that further helped the advertisers by allowing them to easily export Trends data to a .csv file, thus providing them with a broader perspective of their website's performance.
Google Trends:
While explaining the relevance of Search Volume Numbers, Google stated that, "This column shows fluctuations in Google search volume for each keyword over a recent twelve-month period, specific to your targeted country and language. Each bar in the graph is relative to the keyword's overall performance for the 12-month period. This column shows the month that each keyword received the highest Google search volume within a recent 12-month period, specific to your targeted country and language."
WordTracker: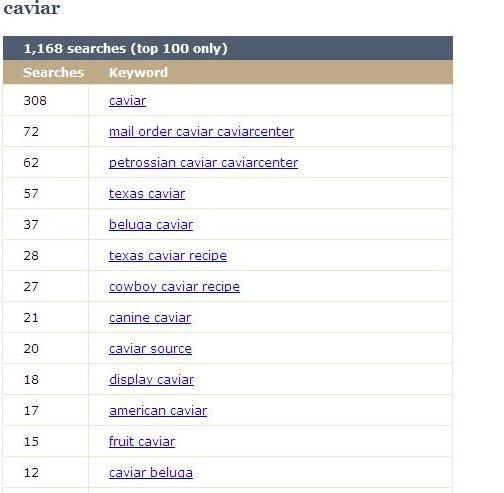 Now as we all know, WordTracker is one of the most widely used keyword research tool. At PageTraffic, we have been using this tool for past seven years. According to WordTracker, "Wordtracker periodically compiles a database of over 330 million search terms which is updated on a weekly basis. All search terms are collected from the major metacrawlers – Dogpile and Metacrawler." Even Keyword Discovery is a well renowned keyword research tool. According to Keyword Discovery, "Keyword Discovery collects search term data from over 200 search engines world wide. As a result we have the largest keyword database that contains over 36 billion searches."
Now, with fancy wordings and intelligent distribution of information, they have managed to make it clear to their customers that, the companies' data isn't pouring in from Google. However, the question that follows with the above statement is that, "Why to rely on the data of third-party Keyword Research Tools, when Google is providing its own keyword statistics?" The answer to this question is a speculative one, where users would decide for themselves, whether they would like to continue with their paid subscriptions or would they opt for the Google statistical data, provided in the form of Search Volume Numbers.
According to WordTracker:
What does this count mean at WordTracker?
This shows the number of times a particular keyword has appeared in our database. E.g. Our database currently holds 290,342,323 words. A count of 147 tells us that this particular word has appeared 147 times in (this is over 110 days).
Our keywords are taken from major metacrawlers (a service that queries all the main search engines simultaneously). Our main sources are Metacrawler and Dogpile, the two largest Metacrawlers on the net. Metacrawlers have the major advantage of matching the sear profile of the search engines very closely. But are not subject to the same kind of skew from software robots that continually check web site and pay per bid positions.
More at: http://freekeywords.wordtracker.com/estimate-of-daily-search-volume.html
However, according to Michael VanDeMar, the statistical data shown by Google in the keyword tool, is absolutely useless for SEO purposes, but is directed towards PPC only. In an effort to spread the awareness of the uselessness of the Google Search Volume Numbers for SEO efforts, Michael did a small experiment on one of his websites. For the testing phase, Michael chose his poetry website and included 5 keywords namely, friendship poems, birthday poems, wedding poems, inspirational poems and best friend poems and ran exact matches for each keyword, thus leaving no room for an initial error.
The test duration was stated for 3 days, so as to establish a comparison for the delivered impressions against the Keyword Tool's estimated search volume. The results showed that some of the phrases received impressions as predicted by the Google keyword tool. Such as, for [birthday poems] the tool gave a number of 27,100 (which would be an average of 903 searches per day).
The bidding on the keyword for 3 days yielded 2,411 impressions (or 803 impressions per day).
According to Michael, "This is fine and dandy if I am only concerned about getting traffic from AdWords, of course. The thing is, if I rely on this data for my SEO efforts I will at best be most likely wasting my time. At worst I will be seriously wasting my time. By analyzing the referrers on the clicks generated during this test we can easily see why this is so."
But on the other hand, the way I see it, the numbers displayed in the Google Keyword Tool, that have been termed as 'high', are probably due to the fact that Google's numbers are inflated because Google uses the Content Network in its estimation. Whereas, other Keyword Tools like WordTracker use Metacrawler and Dogpile, thus limiting their data acquisition scope.
Personally, at PageTraffic we are currently using both Wordtracker and Google AdWords Keyword Tool.
However I will still recommend a mix of Paid Keyword Research Tools and WordTracker. The good thing Google Keyword Tool brings to us is the search volume for local and long tail keywords which all of the paid keyword tools fail to report.