This toolbar will allow the user to display some of the basic key performance indicators.
These performance indicators would be displayed at the bottom of the browser.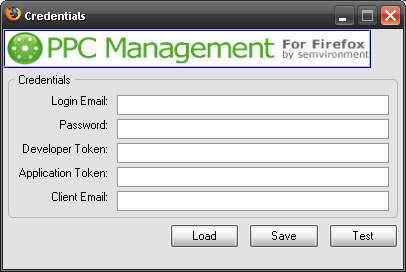 This is what the semvironment blog has to say on the issue:
Double Click this toolbar for your stats to update – it may take 60 seconds to update depending on the size of your account. The data you see will be for today only.
Right click to see the tool menu and drill down into your account level statistics.
Clicks: Total number of clicks accrued today
aCPC: average Cost Per Click today
Cost: Total spent today
Conv: Total number of conversions accrued today
C/C: Cost per Conversion today
Requirements:

Tip: Your statistics might take 60 seconds or more to load depending on the size of your account. If you still do not see data, you may need to restart FF and test your credentials again.

How to Install This Firefox Addon:
Upon download, Firefox should automatically recognize the extension and install it.
If you get any errors:
Right click the logo, click 'save link as…', after saving you can scan it with any Anti-Virus program, then open Firefox. In FF, click file -> Open File -> Find the file and open it -> Install
Here are some of the interesting comments that are being posted on Sphinn:
"Thanks for the tool! It's perfect for guys like me who have to know the status of the campaign 24/7. Can't beat FREE! Any other brilliant ideas like this comming?"
"very cool firefox plug in. I installed and tried going through it to understand it. I dont think i can use it tho because i'm not using a ppc management software. But this seems like a really neat idea. I like it. I am excited to learn more about it."

How To Use PPC Management for Firefox:

Login Email: Your Client Center login email address
Password: Your Client Center login password
Developer Token: AdWords API Token found in your Client Center (My Account->AdWords API Center)
Application Token: AdWords API Token found in your Client Center (My Account->AdWords API Center)
Client Email: The email address of the account in your Client Center that you want to see stats for
Save your credentials, then test! Load is kind of a pseudo button for now…
Tip: You might need to restart FF after saving your credentials for the tool to work properly!
Here is the link to the official website of Firefox Addons.