A latest Open Source web analytics Software released under GPL license, Piwik can be called a neat and developer friendly tool. Though similar in functionality to Google Analytics, Piwik has many features. It is the new version of phpMyVisites and is supported by OpenAds.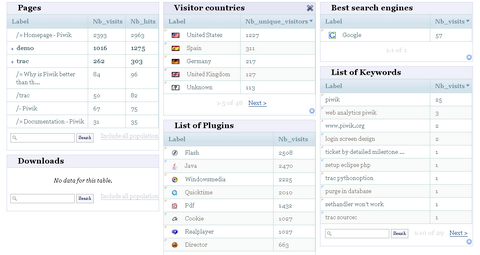 Some of the fine features of this Open Source Software include:
Open APIs
Plugins Architecture
Data abstraction layer
Customizable dashboard
Innovative User Interface
Piwik like Google Analytics uses javascript to collect users data and is not dependent on the web servers access.log file. Therefore, it completely eliminates the chances of any bad bot activity to be mistaken for a user. It can also be hosted independently on a separate server. Another advantage of Piwik besides it being open source and API friendly, you can further tweak it a bit, to show refers from Google Search, Google News Search, Google Blog Search as separate search engines. And all of this in real time.
Watch this video to see why Piwik is better than Google Analytics, clicky and its other competitions:
Certainly, it has the potential to be the world tool for the people who have privacy concerns with google analytics.