Google has made a number of improvements in the amount and quality of information visitors can find with Google Squared. It has also introduced new tools to sort out and export the data.
Squared was first launched in Labs as a step to automatically extract useful information from the web and to present it in a meaningful way. This feature of Squared is useful mostly for research questions where you can not rely on a single website for answers, instead there is a combination of different pages to deliver accurate results.
Squared does not provide a list of most relevant websites, but it returns a "square" or table of facts, which is sources from all over the Internet. When it was launched, Square showed at most 30 facts, but now it will display data up to 120 facts. It means, if you will enter the search for US President on Squared, instead of showing five presidents and three categories, it will not show a table with 20 presidents and around six attributes.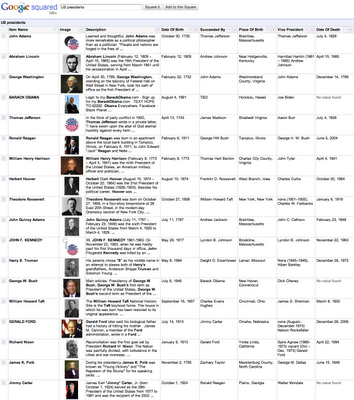 It is also noticeable that the quality of information delivered will not be better because the ranking will be based on relevant to the query as well as the high quality facts providing sites.
Apart from improved information in Squared results, Google has also added the feature of sorting out columns, so that users can rank, group and compare the information. One of the striking features of Squared is that it will convert units in the background so that data is sorted out properly.
You can now do interesting things with the data as Google has also added the ability to export data from Squared to Google Spreadsheet or a CSV file. For example, you can now build a squared for developed countries, add more columns and items and study the relationship between GDP per capita and export percentage. After building the square for adding all the information, you can export it to Google Spreadsheets and create a rough scatter plot.
Google team is still working on improving the quality and user interface of Square before separating it from Labs. It is still in experimental stage, but Squared will provide direction in search by understanding the structured data to building new tools for organizing and presenting relevant information.