Google has launched a new keyword tool, namely the Search Based Keyword Tool. The tool comes up with keywords and landing pages that are extremely relevant to your website. What sets apart the Skool (Search Based Keyword Tool) from other Google tools is the fact that it gives you the keywords that you are presently missing out on in terms of search queries for your website's product or content.
The highlight of the tool is that it gives an advertiser keywords that he is presently not advertising for. For eg., a site selling electronic goods can use this tool to get hold of a particular brand that it is currently advertising for. It can also be used to have a thorough competitive analysis. The keywords are also organized by category, each of which has further sub-categories. The differentiating point between Search-based Keyword Tool and the keyword tool in AdWords is, the former identifies keywords that are presently not being used in your AdWords account and also provides a more detailed data for each keyword. This data includes category information, suggested bid which will most likely place the advertisement in the top three spots and the ad/search share.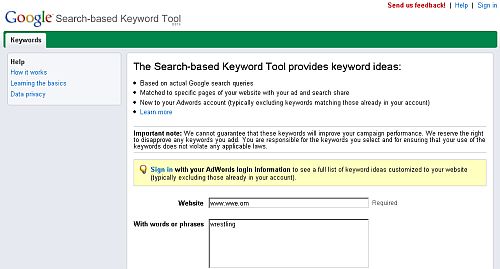 What you see above is the main screen. When you log in to your AdWord account, a drop down menu would appear in the middle. This menu would show all the sites in your AdWords profile. One might use this as tool, for a normal keyword tool or search for keywords they are missing out on (not advertising for). After you fill up the details click on the button 'find keywords'. The next page would come up.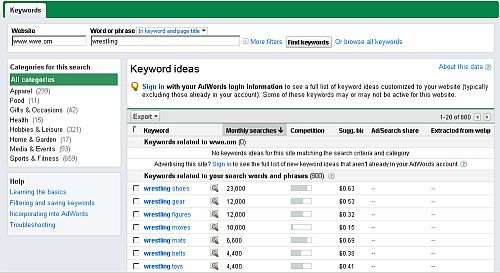 The above screen appears on pressing the 'find keywords' button. This shows you the different keywords that are relevant to your site and you might want. It also shows an Ad/Search Share column, which tells an advertiser what percentage of time you are showing up in search ad spots and organic spots. An extremely valuable piece of information to say the least. However, if you are not logged on your AdWord account or are not the owner of the website then the results will simply show all relevant keywords of the website given by you, including the ones the website might already be advertising for. (This for competitive issues). Also, it will only show 100 results in case you are not the owner of the website. On clicking the magnifying glass next to each keyword you can have a look at insights for that keyword searches, as has been shown below.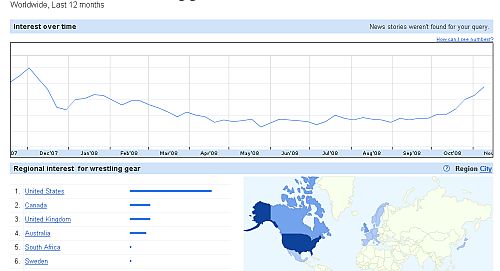 One can also have a look at the keywords in the different categories. Presently this Google tool is up for use to everyone and it should provide all advertisers a good peek at what keywords, they should dig for. Ideally, Google would want it to result in an increase in ad spend and get Google more revenue.