Google has made a number of changes to its SERPs, at least for those logged on to their accounts. The changes have been mostly implemented on all accounts and in case you are not finding the same in your searches yet, you soon will.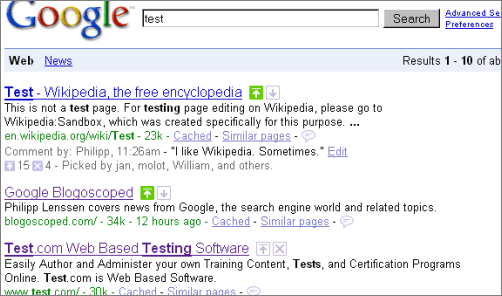 The changes made are under the SearchWiki features that we had informed you about earlier. It enables you to personalize your changes by:
Editing the position of the results you're getting
Adding comments to them.
SearchWiki has been in experimental stage for quite some time now and the move was being widely anticipated by all. You'll be specifically seeing three icons on as well as further options in your searches.
Up vote: It would be shown as an 'up arrow'. The functionality of the arrow would be similar to the a feature that you might have seen in social sites, such as Reddit and Digg. When you click on the same, the icon will turn green in color and the result would up a position. Once a listing has been upped, you will also see a down arrow that can take the result to the bottom of the listing.
Remove: The remove button would be an X-shaped icon. When you click on the same, you will see the listing disappear in a quite animated puff. However, the listing would not be completely gone. At the bottom of the page you'll find a note that would state 'You have removed results from this page', accompanied with an option to further hide the listing altogether or restore the same.
Comment: The comment button would be in the form of a 'Speech Bubble' icon that'll enable you to make comments on results. As per Google's claims these comments would be made public. You can still make changes to or delete your comment altogether after you have saved it.
Add results: You will find a '+' icon below the organic results. This would let you add a URL to your result page.
For the time being, you wouldn't immediately notice any changes around the page for other when you would change something. Presently, as per Google, its mere customization at your end. (You can go through all these customizations at the 'My SearchWiki notes' page). However, this statement itself is indicative enough to suggest that these statements might be later incorporated in the ranking algorithm.