The SEMMY's 2008 Nominations are out, the SEMMYS are a brainchild of, and have been developed by Matt McGee, David Mihm and Logoworks by HP.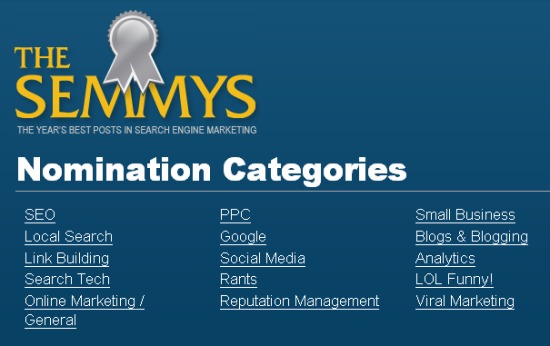 The SEMMYS are an annual awards event created to honor, "the content produced across the search and online marketing industry. Search Engine Marketing (SEM) has grown to include a variety of disciplines, including blogging, social media, reputation management, and more. The SEMMYS attempt to include all these elements into one awards event. We hope the SEMMYS serve as a complement to the excellent existing awards which honor blogs and bloggers."
This years nominees are being considered somewhat controversial because most of them have come from Matt's personal reading list, and the list entails the posts which were highlighted in his monthly posts for being invaluable to his clients and subscribers.
The SEMMYS have nominated 127 authors, representing 111 blogs/sites, and the nominees would be filtered down to 5-6 best ones, the voting is to start soon. There are in all 25 judges for the awards, they are: Aaron Wall, Andrew Shortland, Andy Beal, Andy Beard, Barry Schwartz, Bill Slawski, Brad Geddes, Chris Winfield, Christine Churchill, David Mihm, Deb Mastaler, Eric Enge, Jeff Quipp, Jennifer Laycock, John Andrews, Lee Odden, Lisa Barone, Logoworks, Loren Baker, Matt McGee, Michael Gray, Rand Fishkin, Simon Heseltine, Stoney deGeyter, Sugarrae, Tamar Weinberg, Todd Malicoat and Vanessa Fox.
The SEMMY nominees get these cool badges which can be put on the their websites for a for a vote appeal.
Recently, The Search Engine Journal Blog Awards winners were also announced, see: Search Engine Journal Announces Winners For 2007 Search Blog Awards! and Remaining Search Engine Journal Winners For 2007 Search Blog Awards!.