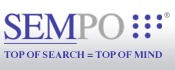 SEMPO's 4th annual State of the Market Survey is now open. Whether you are an agency, a client or work independently, here's your opportunity to share your opinions and expertise an make your voice heard.
Taking the survey would stimulate you to think about the resources you devote to SEO and paid search. If you participate you'd also get the preliminary survey results before they are released to SEMPO's membership.
This is also an opportunity for you to Support the SEM industry as this survey is considered a valuable resource for the industry. This is so because the results would reveal where the industry is at present, how it has grown, how it is expected to grow and trends for the future.
There would also be a draw and if you're lucky you could win an 8 Gb iPod Touch or One free pass to a North American Search Engine Strategies (SES) Conference!
The deadline is February 1, 2008, you can take the survey here.
You might want to get a glimpse of a SEMPO research we covered recently, see: In-House Search Marketers Earning $70,000 A Year!. Here's another study about SEM industry, this one by Ad Age though, but you might find it of interest, see: PPC Ads Are Ignored 88.5% Of The Time!.