Gmail is coming out with a lot of innovations! After the introduction of Gmail Tasks they have added another feature which would allow the users who have Gmail accounts, to send SMS text messages through Gmail chat.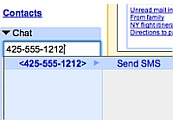 Right now this feature is only available for the U.S users, but if you don't live in U.S., but still have US phone numbers,
then you too can use this feature with an ease!
As far as the users in U.S. are concerned, they need to activate the feature on their Gmail Settings.
Just follow these simple steps:
Go to the Labs tab
Enable "Text Messaging (SMS) in Chat."
After saving the feature, just type in your friend's phone number in the search box in the chat window.
You can also access the contacts list of your friends and then add a particular contact's phone number!
"On the receiving end, when you get a text message from Gmail on your phone, it will come from a number in the 406 area code. (The l33t folks in the crowd will note that this spells G0O.) You can reply to this text on your phone just like you'd reply to any other text. The reply gets routed back to our Gmail servers and shows up in your friend's Gmail chat window. Each of your friends' messages will come from a different 406 number so you can reply to any message and it will get back to the right person. Messages from the same person will always come from the same number, so you can even bookmark it in your phone." – Google
So what are you waiting for? Start sending messages now!