Every year during this time, top experts from Search Engine Industry come together to share their knowledge and experience on search engine and social media. This year will be no different with 4 scheduled conferences to be held between August-November. However, SES San Francisco and SES Hong Kong (First time in Asia) and SMX East conference are the three major conferences that are touted to grab a lot of attention and we will be covering all of these.
SES San Francisco – August 16 – 20, 2010
SES Hong Kong – September 13-14, 2010
SMX East New York – October 4 -6, 2010
SES San Francisco (SES moved from San Jose to San Francisco) is a five-day affair to be held from August 16 – 20, 2010

The agenda's to be covered at this year's SES San Francisco:
Tuesday, August 17, Day 1
11:30-12:30pm
Introduction to Search Engine Marketing
How Large Advertisers are Accelerating their SEO with Social Media
Introduction to Analytics
Search: Where to Next?
1:30-2:30pm
Successful Information Architecture
Digital Asset Optimization
Meaningful SEO Metrics: Going Beyond the Numbers
Introduction to Information Retrieval on the Web
3:00-4:00pm
Link Building Basics
Content Marketing Optimization
Deep Dive Into Analytics
10 Things To Supercharge Your SEM Campaigns
4:15-5:15pm
Developing Great Content
Introduction to Remarketing
21 Secrets of Top-Converting Websites
SEO Through Blogs & Feeds
Wednesday, August 18, Day 2
News Search Optimization
Bringing SEO In-House: The Pros & Cons
Crossing the Digital Divide: The Leap From Search to Display
1:00-2:00pm
It's All About the User: Search Insights for Your Site
Search, PR & the Social Butterfly
Stretching Your Marketing Dollars: The Upside of Search
Getting Mobilized! Mobile Marketing Strategies
2:30-3:30pm
Scaling Up Your SEO Campaigns
Speaking Geek: How Marketers Can Work with Web Developers to Achieve Business Goals
Real-Time Storytelling
Link Building in August of 2010 with Jim Boykin
3:45-4:45pm
Paid Search 101
B2B Search Marketing Tips
Twitternation & Automation
5:00-6:00pm
How to Become a Link Magnet
Beyond the Click: What Shoppers Need Now
B2B Lead Generation Management & CRM Integration
Thursday, August 19 – Day 3
10:45-11:45am
Paid Placement for Branded Content & Digital Advertorial
PPC or SEO? The Ultimate Search Marketing Battle
Eye-Tracking Research Update
Enterprise Level SEO
12:00-1:00pm
Social Media 101
Channel Surfing: Measuring Profit and ROI Across Channels
Duplicate Content & Multiple Site Issues
Search Marketing Toolbox
2:00-3:00pm
Social & the Marketing Mix
Managing Your Google Reputation
Ads in a Quality Score World
I Want It Now!
3:15-4:15pm
Killer Facebook Marketing: Do's and Don'ts
Teen Entrepreneurs Give The Inside Scoop on Youth e-Marketing
Advanced Keyword Research
Augmented Reality – A New World Order
4:45-5:45pm The Business Value of Social Media
Digital Marketing & Sports
Advanced Paid Search Tactics
Selling Search to the C-Suite
SES Hong Kong is scheduled to be held on September 13 and 14, 2010 (First SES Conference in Asia)

The agenda's to be covered at SES Hong Kong:
Monday, September 13, Day 1
10:00 am
Keynote Panel: State of the Industry
11:20 am
Introduction to Search Marketing
Video: The Next Digital Marketing Frontier
12:10 pm
Analytics Best Practices
SEO Performance Marketing
14:00 pm
Social Media Best Practices
15:00 pm
The Business Value of Social Media
Search and Social Integration, the Essential Insights
16:30 pm
SEM (PPC) Best Practices
Search and Display—the New Dynamic Duo
17:30 pm
Black Hat/White Hat Unconferenced
Tuesday, September 13, Day 2
9:45 am
Keynote Panel: Increasing ROI through B2B Lead Generation
11:15 am
Understanding How Consumers in China Access the Internet
Blogging for Business
Search & Social Goes Mobile
14:00 pm
China and the Explosion of Social Media
Advanced Paid Search Tactics
15:00 pm
Scaling your Video Marketing Efforts in China
Information Architecture, Site Performance Tuning & SEO
SMX East is scheduled to be held from October 4 -6, 2010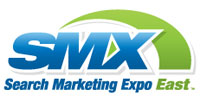 The agenda's to be covered at SMX East:
Monday, October 04, Day 1
9:00am-10:15am
SMX Boot Camp: Keyword Research & Copywriting For Search Success Focus: SEM
The Real Time & Social Search Landscape Focus: SEM
Mobile Search Ads Focus: PPC
Retargeting: The New Behavioral Ads Focus: PPC
The Search Crossover: Local, Mobile, Social
10:45am-Noon
SMX Boot Camp: Link Building Fundamentals Focus: SEO
SEO & User Generated Content Focus: SEO
Mobile Apps & How They're Revolutionizing Search Focus: SEM
Inner View: Google's Keyword Research Tools Focus: SEM
1:45pm-3:00pm
SMX Boot Camp: Paid Search Fundamentals Focus: PPC
Maximizing YouTube Visibility With Organic SEO Focus: SEM
What's New With Local Search Focus: SEM
Tapping Into Google's Love Of Freshness Focus: SEO
3:45pm-5:00pm
SMX Boot Camp: Search Engine Friendly Web Design Focus: SEO
YouTube Ads For Fun And Profit Focus: SEM
Location Services: The New Local Search?
Focus: SEM
Double Serving, Trademarks & Other Tricky Issues Focus: SEM
Tuesday, October 05, Day 2
10:45am-Noon
Facebook SEO: Free Ways To Be Found On Facebook Focus: SEM
Content Farms Or The Smartest SEOs In the World? Focus: SEO
Solving the Big URL Issues Focus: SEO
Search & Diapers – A Tight Fit? Search Marketing & Consumer Package Goods Focus: SEM
1:30pm-2:45pm
Facebook Ad Tactics For Search Marketers Focus: SEM
Microsoft + Yahoo: Together At Last Focus: SEM
Actionable Metrics and Diagnostics
Focus: SEO
Search Marketing For CMOs (& Those Who Work With Them) Focus: SEM
3:15pm-4:30pm
Twitter, SEO & Search Focus: SEM
Search Ads: The Next Generation Focus: PPC
Industrial Strength SEO Focus: SEO
It's Not Multichannel Marketing If You Don't Include Search Focus: SEM
4:45pm-6:00pm
Twitter & Real-Time Ads Focus: SEM
Build It Better: Site Architecture For The Advanced SEO Focus: SEO
Search, PR & Reputation Management Focus: SEM
Wednesday, October 06, Day 3
9:00am-10:15am
SEO Myths, Mistakes & The Madness Of Crowds Focus: SEO
Credit Where Credit Is Due: Demystifying Attribution Focus: SEM
In-house SEO Operations: How things Get Done Focus: SEO
Search Meet Display; Display Meet Search Focus: PPC
PPC Tune-up Clinic with the SMX Mechanics Focus: PPC
10:30am-11:45am Show Me The Links Focus: SEO
SEO & Competitive Analysis Focus: SEO
In-house Search: Managing Conflict and Expectations Focus: SEM
Industrial Strength PPC Focus: PPC
12:45pm-1:45pm
Ask The Search Engines Focus: SEO
Analytics For Social Media Focus: SEM
Ecommerce & Retail Search Marketing Tactics Focus: SEM
Ask The Paid Search Reps Focus: SEM
Link Building Clinic Focus: SEO
2:00pm-3:00pm
Ask The SEOs Focus: SEO
Conversion Optimization Science Focus: SEM
Ask The Paid Search Buyers Focus: PPC
Social Media Clinic Focus: SEM
Our team is all geared up to cover up all action to happen at these conferences. So stay tuned, as soon we will be bringing your more updates right from the convention center!
SEO Conference to Watch out this Autumn!

,