Mobile Search Battle Royal: The search wars are going mobile. With mobile carriers working with advertisers, Web giants looking to extend their brands into mobile, and Yellow Pages or Directory Assistance players getting into mobile, the stage is set for a battle royal. This session will enable search industry professionals to understand opportunities in mobile search. The panel will present some of the first industry data on mobile search categories and strategies employed by leading practitioners. The audience will come away with a solid understanding of the fundamental marketing issues at work, backed up by hard numbers.
Moderator: Dana Todd, Co-founder and Principal, Site Lab International Inc.
Speakers: John du Pre Gauntt, Senior Analyst, eMarketer, Jeff Torgerson, Manager – Product Management, Idearc Media Corp
Dana welcomes one and all and announces the formats of the session. The action starts with
John du Pre Gaunt from eMarketer, when he introduces eMarketer, he emphasizes "the stakes." He says that the mobile has been the biggest digital interface since the World Wide Web, and says that no one has "cracked the problem cold" circa 2007. And that the quest for the search category to drive the mobile search into the mainstream. The whole process involves both technical as well as social engineering considerations. Today the web search is well established, however the mobile search is still a far cry from its Internet counterpart. The reason he thinks is that there's no main industry to make it happen.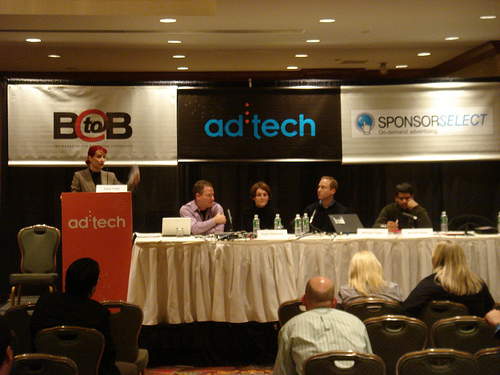 He says that at present there are three main industries namely mobile telecom, yellow pages and web portals which are charging into mobile search. The situation's been made dismal by the fact that the web biggies and telecom biggies don't like to share data, so it's difficult to transfer data between the two. He further dispels the misconception that "mobile search is about answers instead of links." He says that its usually the customers are about to make a decision, but the way out is how easily their search changes to action.
When it comes to mobiles the advertising objectives are well know, they are to elicit direct response, to get content sales, branding etc. So if all of these facets are put together then mobile is pretty much a marketing interface. In terms of figures the number of mobile users would sore to 900 million by the year 2011, he shows a chart with mobile search revenues for different years like for 2006 its 6.8m and 2.3 billion by 2011. For the US alone there'll be 55m mobile search users, the mobile internet figures would be 64.8m. The revenues for US would be to the tune of 700m in 2011. According to the Kelsey Group the Mobile search revenues would touch 920m by 2011. While 200m is different figure it's close statistically.
The correlation between mobile Internet use and mobile search is very strong. He says that you've to start planning now, as during Christmas there'd be a blackberry for $99 and it'll handle all the mobile html and have a qwerty keyboard. 324Million units would be sold in 2011. He then goes on to emphasize the importance of networks, and there's a correlation between mobile search use and higher speed networks. When compared there'd be more 3G users than not.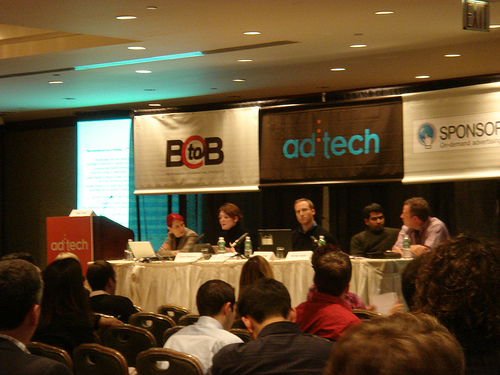 The consumers have shown receptivity to the ads. There's also receptivity towards using systems that would charge lower monthly subscribers fee and adverting. The next few slides drive home is point that there would be consolidation in the markets. After which Dana questions the crowds whether they are taking out mobile budge out of existing search budget versus other kinds of budgets such as brand budget, and the answer is a resounding yes. John then says that people are still in an experimental phase when it comes to utilizing their "play money" as he calls it, which is met with agreement by the audience. Some industries are already doing well on mobiles like the food, beverage and entertainment other industries such as travel are also making progress very fast.
Again it's Dana with a question, whether we'd go and make WAP versions of our websites? John thinks that WAP is a new build and after some time it would be similar to html. The data handling part by WAP is good so there could be a lot of investment in that area. About .mobi extensions John feels that it's growing and it's being worked upon. The point about usage is that still not many people are using the mobile search, the drives home the point with an example that in a Scotland bar people want to know the name of Henry 8ths fifth wife. Right now most of the searches are about local services, and that's where the problem is that local sites haven't yet built pages for mobile specific pages.
The session is carried on further by Jeff Torgeson, he explains the difference between mobile local search and mobile local, he thinks like the mobile local space is kind of feed like product. According to him there are many players in the mobile local arena, such as Google, Yahoo! superpages.com, admob, Idearc, third screen media etc. They want to make an easy industry/marketing tactic for execs to comprehend. Then he talks about the new mobile ad platform from Intel, the Android and Moorestown, should be around in 2009. So the developments are taking place in different directions. For the dream of having a WAP site to come true you'd need to engage a lot of small businesses to be a part of it. Once this move is successful it would be like a hockey stick effect and soon many would follow suit.
Right now they are busy with YP sites and superpages.com figures out how to make the right moves in this area. There are still problems like landing on a bad or an irrelevant pages rather than content rich ones, and its being worked upon. He thinks that there needs to be a more adaptive system and more needs to be done on the tech front.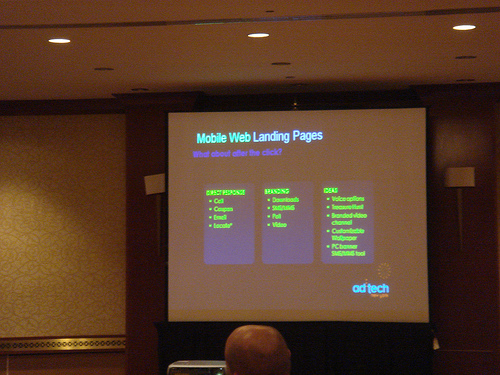 The people who use the Mobile Local are transactional for sure, people usually search for dine out, retail chains, home improvement or traditional brands. Reducing the number of categories is being tested, like when a person searches for "coffee" the bulk/wholesellers of coffee would be irrelevant results as the mobile users won't want that.
He follows this up with a slide of a baby who wants to grab a jug of milk which is the "want." That's exactly how people are when they do a Mobile Local Search. If there's someone who wants a service and has access to GPS phone, then it can be proven that they'd show up at the doorstep. This is like a great way to create value for the MS market.
The Blackberry's keyword v/s category search is something that can be analyzed for improving upon UX, there are many users with Blackberry about 55% and with iPhone 75%. He thinks that there might not be a need to build .mobi sites etc. However you'd need to concentrate on one site with a better technology to sniff the browser.
Then come Dana and says that she's sick of hearing things like "it's great – go buy it." Now the audience wants to know that what kind of results they've been getting. One person isn't satisfied with the traffic. And she wants to know from a "newby" viewpoint how to go about setting up an M advert. Jeff suggests that because the industry is kinda fragmented so it might be difficult to actually set up an M ad. He says that he's not forcing YP but it's a good way to do it. John suggests that if you're a newby you'd better have "funny money" as it could take sometime to test the fruition. He says "It truly is a 'one check' kind of deal right now."
Dana says that she'd asked Yahoo!, that why there wasn't any interface for dealing with these systems, and they gave her answers that made her mad, they said suggested that SEMs should be creating this. Jeff encourages advertisers to think about the differences in space, as in the current scenario its difficult to provide a single platform.
PHOTO CREDITS: toprankonlinemarketing