Google has launched a new and simple Chart API. With this tool one can easily create charts and graphs that are perfect for websites. It just generate a chart and return in (PNG) image format which one can embed in their web page using the simple img tag.
To explain it in a better way, here is an example. With this simple URL mentioned below, one can create this image.
http://chart.apis.google.com/chart?cht=p3&chd=s:hW&chs=250×100&chl=Hello|World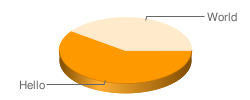 This Chart API supports line charts, bar charts, pie charts, scatter plots and sparklines. As put by By Steve Crossan, Chart API Team, "We actually built this originally to use internally – we use it on Google Video and Google Finance for example. It seemed like it would be a good thing to open up to other users too. The Google Chart API started out as a 20% time project here in Zurich, and we're really happy to be launching it to the world today."
Unlike other Google APIs, this is much easier to use for the general audience.