Ready to hang your shingle and be a search marketer? You might want to ensure you have the right basic training! This session looks at ways budding SEMs can educate themselves plus get started in the industry.
Moderator: Kevin Ryan, Vice President, Global Content Director, Search Engine Strategies and Search Engine Watch
Speakers: Dave Davies, CEO, Beanstalk, David Wallace, CEO and Founder, SearchRank, Nicole St. Martin, Search Marketing Analyst, HotGigs/Jobs2web, David Hoffman, Search Smart Marketing.
It's Dave Davies from Beanstalk who kicks off the session, he starts off with things you need to do, get an accountant, a good lawyer, figure out your strengths, strongest skill and excel at that. During the growth stage its important to hire with caution, hire just what you require, and not what you desire, research you market position continuously and keep a track of all the statistics.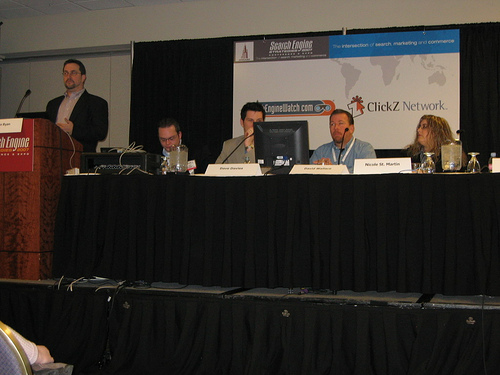 Then he's on to the things to avoid, avoid being over-optimistic, if you think that you'd be ranked like "SEO-Your-City" in two to three months time, then that's being over optimistic. Avoid doing all things that you don't excel at rather focus on others. Hiring friends can be a smart move and if they own some of the company then it really doesn't qualify as a 'hire.' avoid being fixed on you past glories, they can harm you and above all enjoy you business 'coz that's what true success all about.
Next one up is David from Search rank today, he starts off by suggesting resources to learn about search marketing they are, free resources such as SEOmoz's "Beginner's Guide To SEO, blogs and forums, eBooks eg seobook.com, Online Courses from SEMPO, Bruce Clay, Search Engine College, conferences: SES,PubCon, SMX, Small Business Guide to Search Marketing. But he says that practical experience of actually doing it yourself is all the more important.
He then talks about establishing your website, suggests first choose a niche, make sure your're interested in it and at the same time it's not very competitive, it should be something that helps you get moving with a business. Next, get a domain name, in case it's all new then you've to go about establishing it, so that way old domain is better but it can cost more. Now about establishing a web site, do it yourself, get a designer to do it, or rely on an automated solution.
Then for the Search marketing strategy, conduct keyword research, it serves as the bedrock of your search marketing efforts. Now about techniques, start off with what you know, like fundamental link building techniques and SEO. Next step, is the Paid search campaign, track performance and do analysis of traffic, visibility, conversions. Important thing, keep learning from experience.
He emphasizes the need for networking with partners, other search marketers, build business partnerships with web design firms, ad agencies and the like. Use online networking through social media, blogs etc, and through trade shows, conference.
It pays to position yourself as an expert, you've gotta try and stand out, write good articles, use forums, social media, quality blogs. Offers a caveat, don't spam blogs and forums, don't plagiarize content. A a know-it-all image, too is bad, no overstatements about what you can deliver, in short be ethical.
Up next is Nicole Martin from HotGigs/Jobs2webSearch, she talks about the good points of marketing as a field, you don't need a degree, you get flexible employment terms, great salaries, and the skill sets are quite portable. To be good you need passion patience and problems solving skills. Resources for learning the tricks of the trade: SEOMOZ, highrankings.com, Top rank,. Search engine watch, Search engine land, SMX, Search engine strategies, Search marketing standard.
It's David Hoffman now, he gets down to the Five rules for dating my client: Partnering with agencies, web developers, PR Firms etc. #1. Sign a "PreNup, "including Mutual Non-Disclosure Agreements to protect the parties. It will instill confidence in agency's mind. 2. Show respect to the family, meet deadlines, standards, and clarify rules for client contact. 3.Don't nickel & dime, build trust, exceed expectations, educate, relevant articles, lunchtime seminars. 4. Avoid client conflicts, carefully deal with multiple agencies, cautions against exclusivity. 5. Ensure everyone's happy, it's worth their/your while.