The well-intentioned feature "I'm Feeling Lucky" of Google is apparently being exploited by slick spammers to dupe common folks into their evil designs. Spammers use it to bypass filters leaving the users vulnerable to loads of email spam. Spammers can be quite a menace, if nothing else they can make people anxious.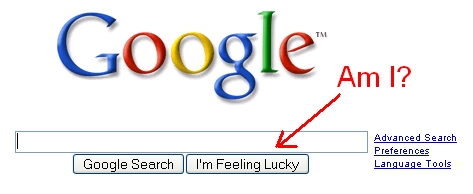 Conventionally, Google's "I'm Feeling Lucky" enables users to straight away land on web address of the very first result for a particular keyword or a phrase that you've keyed in.
However, spammers have figured out a loophole, which is to embed spurious links in the "I'm Feeling Lucky" feature. This enables their emails to skip any filters which would have obstructed numerous fraudulent URLs. These links are able to pass through the search engines because some times genuine users pass links like this.
Spammers, in order to make it a slick and successful operation often use regionalized search engine sites viz. google.co.uk, google.com.hk, etc. It seems that this sort of strategy may not be confined to Google only but any search engine that may use a similar functionality.
According to Intelligence report from MessageLabs, an IT security firm, of all the Spam that occurred in January, 17% can be attributed as search engine Spam observes Dan.
Since, this type of spamming technique has come to light recently, it appears that the good boys were actually winning the tussle against the bad boys, which led to this 'noble' invention.