Today the 2008 official SEMMYS awards have been opened for the public to vote. In our earlier post we had covered the nominations for the awards. Now Matt McGee, the brain behind the 2008 SEMMYS award has announced that the finalists for the awards have been chosen and we can now go over to the SEMMYS and vote for our favorite articles.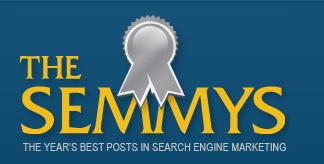 The 2008 SEMMYS list posts from 127 authors from 111 blogs / sites in 15 different categories such as SEO, PPC, Local Search, Analytics etc.
The voting starts today at 12:00 pm ET (9:00 am PT). The finalists have been chosen from all 15 categories. Those who are going to vote are expected to review each finalist and then click on the given link under each of the 15 categories. It then takes you to a new window, where you can place your vote for your favorite article/post of the year. The voting is open till January 30th. Hurry!!