A recent blog comes up with the update that while expanding the options on a Google search result page, you can restrict the results to things such as the past week, the past 24 hours, or "Recent results". This is possible by tweaking the URL parameter on the result page.
The URL parameter value starts with qdr that stand for query date range. Remember that you have to type "s" for seconds and "n" for minutes as shown below while "h" for hour, "y" for year and likwise in the URL.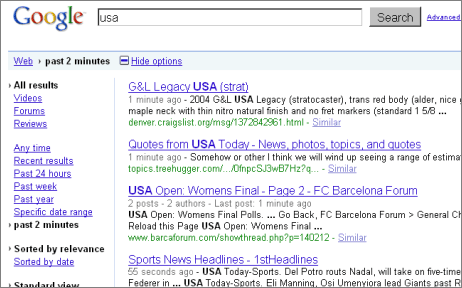 Here is an example for search on 'politics' with results from the past 45 seconds.
google.com/search?q=politics&output=search&tbs=qdr:s45&tbo=1
Another example for search for usa restricted to the past 2 minutes: