Ann Smarty over at Search Engine Journal has put up a post that highlights the Top 5 Firefox browser add-ons designed for exploring the backlinks. These plug-ins are:
Smart PageRank: This user-friendly Firefox add-on instantly checks backlinks for a current active page. It has a number of helpful settings that allow users to check for Google PageRank, anchor text and nofollow link attribute. However, there is one drawback to this tool and that is, it will open backlink list in the same tab as the active page and there's no way to change that.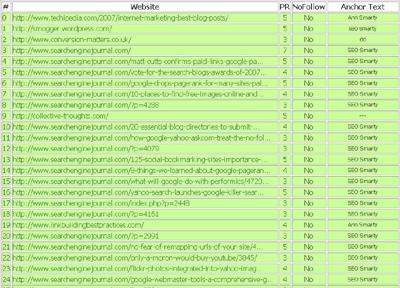 SearchStatus: This Firefox plug-in allows quick access to the backlinks of a page or domain in Google or Yahoo Site Explorer.

SEOQuake or SEO for Firefox: You can use either on the one, whichever you prefer. However, using SEOQuake or SEO for Firefox will slow down the search process. Either of the plug-ins can be used to enhance link: search in Yahoo! or Yahoo! Site Explorer. Through the use of these plug-ins, users will be able to view valuable information for each linking page necessary to make a conclusion on the checked page's actual strength. This information would be related to Google PageRank, Google indexed pages, Dmoz or Yahoo Directory presence, page backlinks, etc.
Inbound Link Quality: This Firefox add-on will display the estimated quality of backlinks for an active page based on Dmoz and yahoo directory mentions, number of .edu and .gov backlinks, age and Alexa rank.

SEO Link Analysis: This Firefox plug-in checks Google PageRank of the linking page, anchor text used and the nofollow attribute. One of the surprising facts about this add-on is that it works for Google Webmaster Tools "Pages with external links", where no other Firefox plug-in is compatible.

These are some of the best known Firefox browser plug-ins that would keep you informed and assist you in exploring backlinks.