Entertainment news search on Yahoo! now includes results from the Yahoo! TV portal. Yahoo! TV Shortcuts will include entire episodes, video clips, photos, show times, reviews and ratings and a lot more.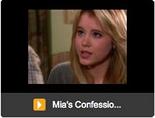 The search results page will also display suggestions related to celebrities, movies or TV shows on the left side. These suggestions will lead to more photos, videos, tweets and the latest results about the actor/show.
Moreover, if the celebrity has an official Twitter feed, the latest tweets will be shown on the search results page itself.