Over at the Searchlight Digital Blog, an interesting post has surfaced that talks about the percentage of click-throughs based on a specific Google ranking.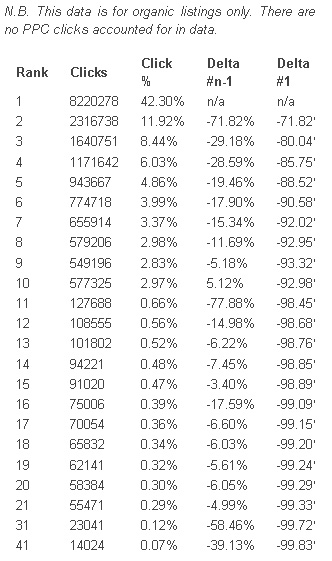 The above mentioned figures are from the results of 36,389,567 searches and 19,434,540 clicks on a variety of SERPs, from millions of users, covering a huge array of topics.
As per the post, 42% of all clicks have been assigned to the number one position. "Where this gets really interesting though is when you look at what can happen if you own most of the real estate on a good SERP." 68.69% of the consist of the top four results, that account for one-third of the clicks/. Whereas 89.69% constitute the top ten results that amount to nearly nine tenths of the clicks.
As per the blog, "Drop onto page two, and you're basically stuffed. Unless the term gets huge traffic, you're not going to. We can see all the page two listings getting under 1%, and most getting less than 0.5% of the total number."
One of the most interesting fact is that, from all the searches that performed on these SERPs, 42% of the users, did not click on anything at all. This shows the increasing mentality of the users, that unless they find something interesting or relevant, they will not click on a link, just for the sake of clicking.