In an interesting development, some how the updates to the Google Quality Rater guidelines have popped up. Brian Ussery was the first one to discover the revised copy of the 'rater' and he archived it on his site.
The Google Quality Raters use the document to aid them in classifying queries, measuring relevancy and rating the search results. It tells us exactly how Google works. The document dated April 2007, states the working procedure of a quality rater, who at first researches and understands a specific search query. The rater then assigns a rating to the specific "query-page."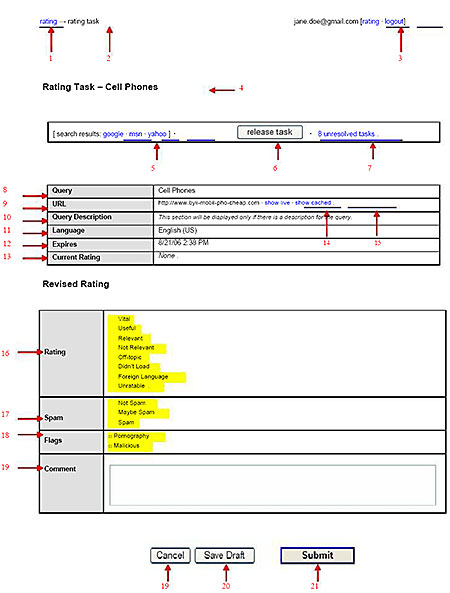 The quality rating scale that the rater uses for a specific URL are:
Vital
Useful
Relevant
Not relevant
Off-topic
However, there might be some which can't be rated, so the quality rater categorizes them as:
Didn't Load
Foreign Language
Unratable
It even has different spam labels:
And those content that require immediate attention are flagged as:
The queries are grouped in three types:
Navigational: A user searching for a specific webpage.
Informational: A user searching for more information on certain topics.
Transactional: A user looking of a source to buy a product or download something.
However, they are different but still for certain queries all three types would act in unison.
The updated Guideline would certainly please those of you who are into social media. As these guidelines would rate blogs and social network sites like MySpace as relevant. While the E-tailers can gain more insight on how your commerce sites are rated. You should understand that the raters would look for shopping carts, return policies, shipping calculators and gift registries, while rating a site as relevant and so you can be prepared. They do so, in order to distinguish e-commerce from "thin affiliates." The "thin affiliates" are sites which offer no value to visitors and are considered spam in the rater's guidelines.
However, till now what we don't know is how much Google validates this information. But many do feel that the document is legitimate.