Google appears to be breaking its own rules on the subject of displaying advertisements for alcoholic drinks such as rum, gin or vodka, with Vodka making a comeback in Google's Search Results. According to Search Engine Watch, Google has begun displaying Vodka advertisements with a list of its Vodka advertisers at the top of the page.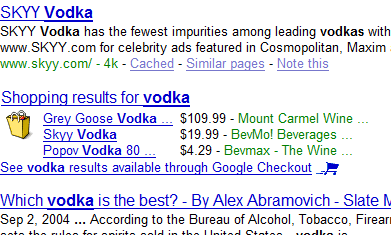 As a user keys in Vodka, before reaching to the search results, Google is showing a Checkout listing that promotes various Vodka products and labels. Google follows an extremely strict policy about the representation of alcohol in its AdWords program, based upon the local regulations and the type of alcoholic product.
However, without surety, nothing can be said about this latest development, as to whether it is just an error or that Google is infact contradicting its own rules. It would be really nice of Google to publicly address this issue and come out with an official statement.
Until then, Vodka will be free-flowing on Google. Cheers!