Google has comeup with a new way of viewing messages for a specific website. With the help of an additional Messages feature, which would be visible on site pages, the user can freely choose how he wants to view his messages, whether its for one website at a time or for multiple sites.
'Site Notice messages alerts would appear on the message center. These notifications act as an alerting tool that indicates the user of crawl-related problems and provide a set of URLs as a sample to fix them.
Whenever any issue would be notified, the " Site Notice messages" now to be known as "alerts " would diagnose them.
For the easy visibility of these messages containing the alerts, a special icon will marked. A notification about the unread alerts would be displayed on the dashboard of each site. This notification would result in the new website Message center with a filter which would be capable of showing just the alerts for the current website.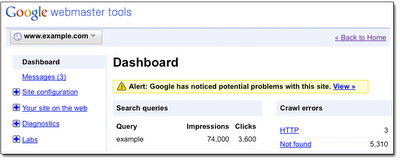 The great advantage is that, the user can enable these alerts on his own as well. By this the person can easily figure out which alerts has he missed out and would assist him in finding issues across various sites together.
All this can be done with the help of the email forwarding feature provided by Google , that would help him in forwarding or receiving relevant alerts without even using the Webmaster Tools.
For example, if the user needs to forward his messages:
On the Webmaster Tools Home page, click 'Forward your messages'.
Select the email address and language the user wants..
Therefore, this feature would be really useful and beneficial for thousands of users.