Over at the Search Engine Herald, Noel has come up with a post that talks about a very little known topic of 'Keyword Mining'. It is a common known fact that, every website has it own web statistics. These statistics enable the Webmasters to get information about their website such as, the number of visitors, visiting frequency and other details as well.
Although, there is an option of keeping the statistics 'private', yet most Webmasters either don't do so, or, unfortunately, some of them are clueless about the existence of the 'privacy' option. Now, Google is the biggest search engine out there and indexes practically every website in existence. At times, with the pages that are being indexed, these website statistics also get indexed by Google and are available for the whole world to see.
This indexing helps the third party user easily mine keyword data from the statistics and it is legal and safe as well. All you need to do is type,inurl:awstats.pl intitle:"Statistics of" in the Google search box. This will show a list of websites that have been indexed by Google to be viewed by general public. With Awstats, not only will you be able to view the day to day website traffic, but would also be able to view the extremely important, 'keyword statistics'.
Noel did a similar example, by taking the keyword "condominium." Then he put in "inurl:awstats.pl intitle:"Statistics of" condominium " in the Google search box. Below are the image of the results that he got from his search.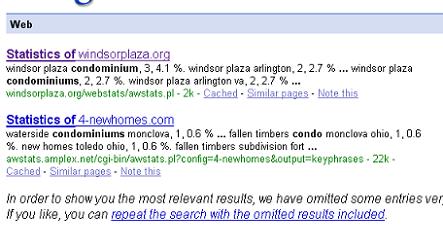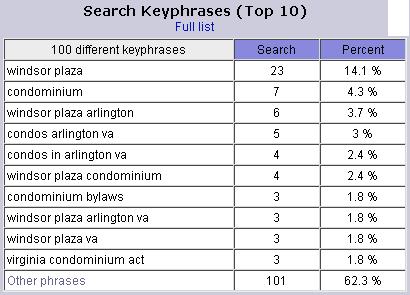 By studying the second image, you can clearly understand that, these were the keywords that users had used to find the specific website. This is one unique trick for keyword research!