A latest Webmaster Blog is providing solutions to the webmasters who want to get rid of the low-quality links on the Webmaster Tools. There is no doubt that every site owner wants to build a good reputation for its site and the poor-quality incoming links can harm the credibility & ranking of the site.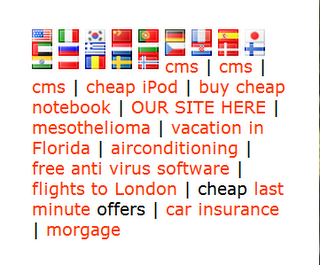 If your website is also receiving links that look similar to the above image, Webmaster Blog is providing this information especially for you:
Linking is one of the many factors that affect Google's ranking algorithms. Other ranking factors include if the words of a user's query appear on the title, closeness of words on the page and more. Even if your site has all of them, it is important to have something unique, engaging or useful on your site that would do some good to visitors. In case you see low quality sites linking to your website, just remember that this is only one factor amongst many for judging the site. A well-structured website with high quality content will obviously get appreciation and more visits.
Visitors will have a bad perception of your site if they will come across it through spammy links. In case you can manage the number of poor-quality links and if it is easy to out-out or remove those links, it will save the credibility of the website. All you can do is contact the sites and ask them to remove the links. Google cannot be of any help in this matter because it index the content found online but it does not control the content or the site linking to you.
Generally webmasters don't have control over things like somebody linking to their site. But, they can control the factors that influence ranking and indexing. Here are a few things you can do:
The very first thing is to organize the content by doing a mini-usability study.
You can also ask for a site review in a webmaster forum.
Take help of a website testing tool to know what gets you most visitors or the factor that makes biggest sales on the site.
Go through the sites of your competitors or just your favorite ons to know what they do and the factors that make you visiting them again.
If you will spend time on all these things, it will have a positive impact on the overall performance of your site. This will be more fruitful than spending time on removing every questionable backlink.

You must know that low-quality links can rarely stand the test of time and disappear from link graph of Google quickly. There may be chances that some of the bad links on your site have already been discounted by Google algorithms. In case you want Google to know about these links, you can use spam report or the paid links report to get them removed.