Apparently, there were reports that Google's ads weren't being being clicked on at the same rate as earlier, and Google's stock also took a beating as a result. But it now seems that the markets might have picked up the reports wrong, as comScore suggests .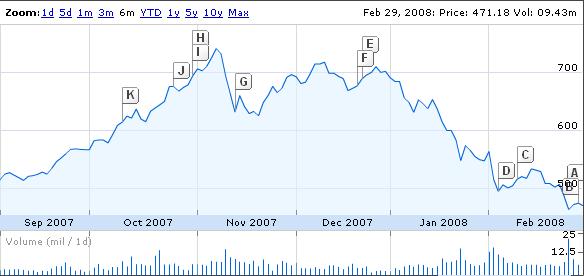 As the reports suggest that a decline in Google's paid click metrics isn't due to any factors other than Google's own quality initiatives. Google had itself deliberated on the issue earlier, see: Google's Efforts To Combat Accidental Clicks Could Harm Its Revenues!. The quality initiatives are expected to result in a reduction in the number of paid listings, consequently decreasing the chances for paid clicks to occur.
However, this explanation could be responsible only partially, as a decision taken by Google in November about how Google ads worked could also be a contributing factor, observes Tech Crunch.
The change was the redefinition of the clickable region for Google AdSense. As it moved from the entire boxed region, to just the text link. The consequence being that the errant clicks no longer occurred frequently leading to the present situation.
Reports had been coming in from personal accounts of several publishers, who experienced the trough in their CTR and the Adsense revenues since the alterations had been mad. There is also some word around that the phenomenon is not confined to small sites only.
Over the last two months, and after Google implemented the changes, the CTR on text ads declined about 60%, while the Image ads have maintained the same figures.
The conclusion that alterations to the clickable area for Google ads has lead to a decrease in accidental clicks, consequently to a decline in CTR, is shared by SEO BlackHat as well.