Jimmy Wales had disclosed his plans to unleash wikia search a year back. see: Google Looking For Community Driven Search?.
As promised by the Wiki folks on the private beta release last month, see:Private Beta Of WikiaSearch Launched!, the public release is finally here for one and all to try their hands on.

The search experience for users across the world for the most part has been disappointing, probably everyone is so used to using Google and other well-established search engines that Wikia Search seems to be primitive for now.
Michael Arrington from TechCrunch opines "Wikia Search Is A Complete Letdown…First of all, it's barely a search engine at all. It's based on the open source Nutch software and contains an index of web pages created by Grub (a company Wikia acquired last year). The search results are poor and thin, as would be expected if not for the huge expectations that have been set. Absolutely no one is going to use this to search the web, until (and if) it is greatly improved.
It appears that Google at present returns more relevant results for the keyword "wikipedia" than Wikia search itself.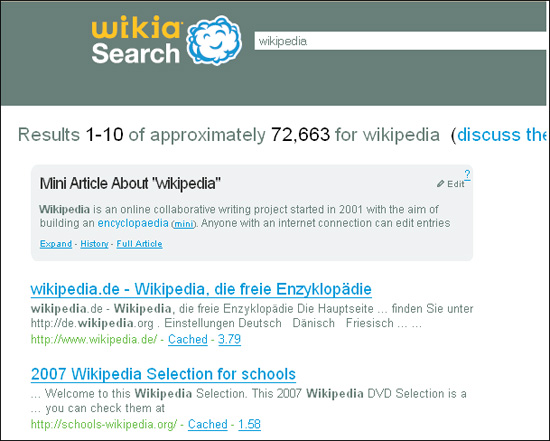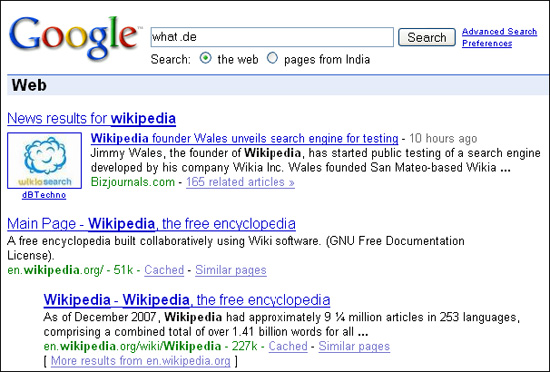 Matt Cutts on his blog acknowledges the negative reactions wikia search has attracted. He says "…congrats to the Wikia crew on your public launch, and welcome to the search industry! I'm glad that you're jumping into the search space."
RonPK at Webmasterworld compares Google to Wikia search "* both engines cannot count. A wikia search that returned 3 results said "Results 1-5 of approximately 5 for [..]". At the bottom there is a button "Results 4 to 13" which doesn't return any extra results. wikia does not put wikipedia articles at the top of most searches like Google does."
Saumil Mehtathe product manager, vertical search engine competitor has reviewed the engine comprehensively. He's of the opinion "" Should Wikia Search call the whole thing off?"
The reasons for its poor show could be its nascence and it will take time for it to evolve overtime. The product has been released while it's still not complete, this is a phenomenon that users are not used to these days, as Google releases completed products which remain in the beta for quite some time. The question arises if the engine was still in its infancy why has it been launched in haste?
The 'about' page on wikia search distinctly acknowledges that the performance is bad for now but it would improve with time. "Wikia's search engine concept is that of trusted user feedback from a community of users acting together in an open, transparent, public way. Of course, before we start, we have no user feedback data. So the results are pretty bad. But we expect them to improve rapidly in coming weeks, so please bookmark the site and return often."
When a search query is run on the Wikia a 'miniarticle' appears right on top and the users is encouraged to contribute to an article on the topic. Whatever you search the 'miniarticle' option appears, at present you wont find these 'miniarticles,' but as people contribute there should be plenty of such articles around.
When you sign up for an account you can read the tutorial but the tutorial can't be called anything more than instructions about editing wiki pages. The lack of documentation is certainly an issue. The cached pages aren't faring well either.
While many have been disappointed with the dismal performance but with the project being community based and open source, hopefully it would one day be as popular as wikipedia. Wait and Watch.