Last month I informed our readers about an open source analytical software called Piwik. Sticking to the same theme, I just found this amazing analytics tool that promises real time data feed and boasts of numerous other features aimed at Webmasters' need of constant website updates. The tool called Woopra, is a free web tracking and analytics tool that analyses a website in real time, targeting small and medium websites with up to tens of thousands of daily page views.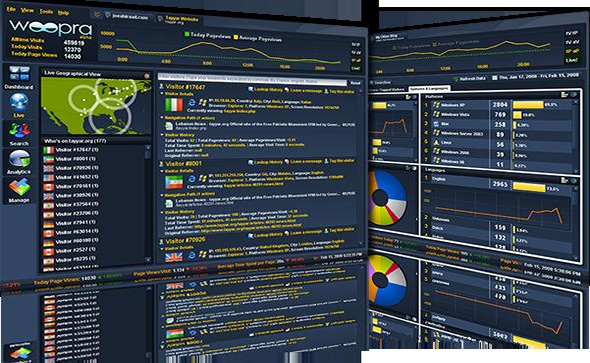 Woopra tracks online website activities in real time and provides precise analysis. It includes many graphical visualizations such as, charts, maps and panels. Some of the features of Woopra are:
Real Time Tracking:
With its state of the art live tracking technology, Woopra will update the Webmaster with all the activities taking place on his website.
Enhanced Interface:
Woopra provides an interactive user friendly interface to display complex graphical information, such as graphs, charts, maps etc.
Activity Tool:
Webmaster is shown all the activities on his website in chronological order via Woopra logs. It also provides him with an intelligent tool that enables him to go back in time and identify all actions that took place on his website.
Chat:
Webmasters will have the option of chatting with their website visitors via a pop-up that would appear on the web page and would also provide the visitor with a direct link to start a conversation with the Webmaster..
Notifications:
Woopra provides on-demand operational data and apply intelligence to make the data actionable by incorporating valuable information around real time data.
Developer Tools:
For developers and web enthusiasts, Woopra provides enhanced Application Programming Interface (API) that would allow the user to extract a particular website's data into common web 2.0 formats, thus making it useful to be used in third party applications.
Woopra proves to be an extremely valuable tool for Webmasters, who are interested in every bit of information about their website and its online activities.