At Yoast, Joost de Valk, has posted quite an interesting and an informative post, delivering perhaps some of the best tips and suggestions for achieving high rankings for your WordPress blog.
Let us take a look at some of the intriguing aspects, as put forth by Joost:
Basic Technical Optimization: If you are running a blog at WordPress, you should know that, WordPress is a pretty well optimized system and probably is one the of the best CMS (Content Management System) as it allows every single page to be indexed. Here is a list of some functions, that would make working with WordPress a breeze.
Permalinks: One of the smartest ways to effectively optimize your blog, is to change your permalink structure. In WordPress 2.5, you'll find this page under Settings -> Permalinks The default permalink is
?p=<postid>, but it would be wise to use either /post-name/ or /category/post-name/. For the first option, you change the "custom" setting into /%postname%/: Once done, you should install the Redirection plugin, and make sure that under Manage -> Redirection -> Options, the setting "Create 301 when post slug changes" is enabled.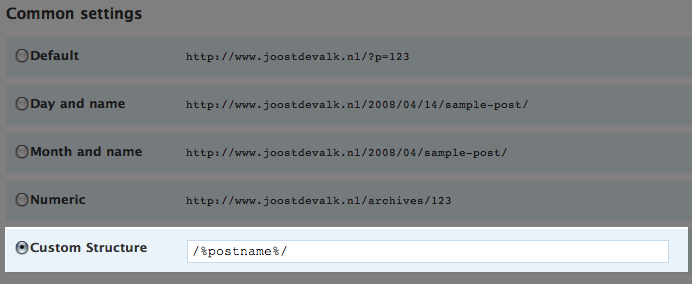 Optimize your Titles for SEO: In WordPress, the titles for the Blog posts by default is "Blog title » Blog Archive » Keyword rich post title". According to Joost, this pattern should be in reverse order to get dedicated traffic to your blogs.
Search engines put more weight on the early words, so if your keywords are near the start of the page title you are more likely to rank well.
People scanning result pages see the early words first. If your keywords are at the start of your listing, your page is more likely to get clicked on.
In order to learn more about the art of crafting good titles for your blog, you should check out this video, titled, "Google & SEO Friendly Page Titles." One of the preferred methods to craft your Blog title is through the use of HeadSpace. You should check your header.php though, and make sure that the code forwp_title(); contains two quotes, so it looks like this: wp_title(");. This would ensure that your title doesn't have any separator in there. After that, go into the HeadSpace settings, and make them look something like this for your posts and pages:

For the other pages, you should use the following settings:
Posts / Pages: %%title%% – Blog Title.
Categories: %%category%% Archives %%page%% – Blog Title.
Tags: %%tag%% Archives %%page%% – Blog Title.
Archives: Blog Archives %%page%% – Blog Title
HeadSpace also empowers you to write optimized titles for each post specifically, overriding the above mentioned settings

Template Optimization:
Breadcrumbs: You should add breadcrumbs to your single posts and pages. These are the links that are above the title post that look like "Home > Articles > WordPress SEO". The benefits of Breadcrumbs are:
They allow your users to easily navigate through your site.
They allow search engines to determine the structure of your site more easily.
The breadcrumbs should always link back to the homepage, and the category the post is in. In case, if the post is in multiple categories, then one of those categories should be chosen by Breadcrumbs. For that to work, adapt single.php and page.php in your theme, and use one of the available breadcrumb plugins.
Headings: It is quite important to remember that your post title is an <h1>, and nothing else. Your blog's name should only be an </h1> <h1> on your front-page, and on single, post, and category pages, it should be no more than an <h3>.
Clean up your code: If you have used javascripts and CSS in your template files, it is always advisable to move that to external javascripts and CSS files and keep your templates clean. This will ensure that the users can cache those files on first load, and search engines don't have to download them most of the time.
These suggestions are the just the tip of the iceberg, drifting you towards achieving that perfect WordPress blog rankings. For more information regarding this topic, visit Yoast!