A new negative keyword kit has been launched for free by WordStream. It is basically proposed for the marketers to locate and delete the absurd impressions and clicks. Besides this, it is expected to soar up the ROI by increasing click-through- rate and quality score.
How…? Well this tool would provide the users with suggestions of keywords, which they could mark as negative or relevant. By doing this, they would be saving their time, their money and obviously, the ROI would increase by removing the deadweight.
Well look at the above picture, the word reputation has been written as the keyword. On the left side
How it Works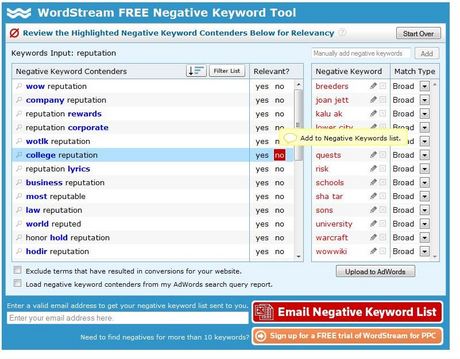 You can see a box that has been generated by the negative keyword tool. Just right to this, you can see a box with Relevant written on the top. From here you will select the word if it is relevant or not and you can even refine the selection of your choice by checking whether the negative word match will be 'broad', 'phrase' or 'exact'.
Larry Kim, WordStream's Founder and VP of Product Development says, "The Free Negative Keyword Tool saves PPC advertisers the headache of going the long, tedious and expensive traditional route of waiting for your ad campaigns to mature and accrue query data, then sifting through search query reports to uncover negative keywords."