Yahoo has published its online style guide as a printed book and it will be available in the market from 6th July onwards. The book called as, The Yahoo! Style Guide: The Ultimate Sourcebook for Writing, Editing and Creating Content for the Digital World; will give you an insight to the writing style for the web. The press release says it's the "first guide of its kind to focus on the specific issues associated with developing content for the online medium".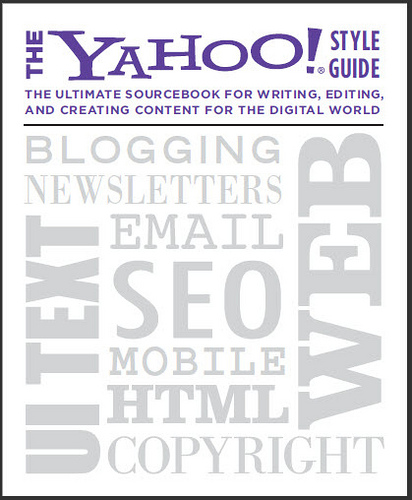 Well in the book you will find all kind of knowledge and the guidelines regarding the writing styles that are prevailing in the present day world and are usually adopted by big online content writers. From the content page, it is understood that the book is all about the basic standards of writing styles and guidelines used in for web.
In the book, yahoo has recommended some points about SEO (Search Engine Optimization). They have stressed on the importance of keyword research in order to know the volume of the traffic on the web and with regard to this, they have advised :
"Search engines, to understand what the subject of a page is, look for keywords throughout that page, including at the top (the introduction) and the bottom (the conclusion). But don't just shove keywords into the top or the bottom of your page distribute them evenly throughout."
"To a search engine, good writing means using variations of your keywords, including those with different endings."
"Like a muffin with the right amount of blueberries, it [the page] should have juicy keywords distributed evenly throughout, but not so many that they overwhelm the whole."
"Strategically seed your copy with keywords"
Despite having so many features, experts have said that the book contains no such feature that could make it distinguished or unique in itself. Because there number of books and manuals available that have
proved better in the past times and are followed even today. So to what extent,Yahoo's style guide would serve the needy people is still uncertain.