So far the stark competitor to Digg, Yahoo! Buzz that was launched in February this year was available only to a handful of invited publishers who were able to post news to Buzz. This was seen as a completely biased move, as those stories that did make the Yahoo! home page saw incredible volumes to traffic to that particular website.
However, now via Yodel Anecdotal, Yahoo! has announced that Yahoo! Buzz has now been made available to every user publisher on the Internet.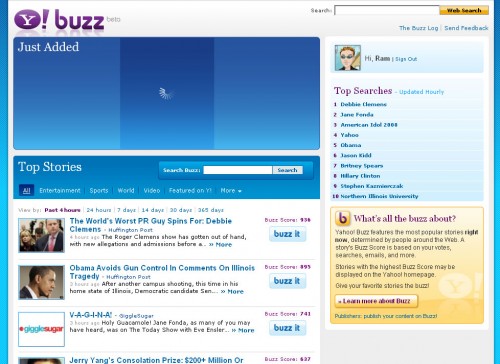 According to Yahoo!, "We started with about 100 publishing partners, which quickly grew to more than 400. Sites like Salon.com and GigaOm immediately saw an impact as their traffic soared when content climbed up the list and got selected for Yahoo.com. Now that benefit can come to any site online, making it possible to give as much visibility to extraordinary content from an obscure site as major news stories from big publishers."
Interested publishers can submit and publish their stories on Yahoo! Buzz by clicking here. If you are a Webmaster and wish to add the "Buzz Up" to your website, then you can simply visit this link http://buzz.yahoo.com/buttons and add the button of your choice to your website.