Yahoo! Seems to be following Google like a kid. Whatever Google comes up with, after some time you see Yahoo! With the same feature, just different names. As reported by the The BrandVerity Blog, Yahoo! is now displaying geographical locations in its search advertisements.
For example a search query conducted from Seattle, Washington for 'lawyers' displayed results with geographical locations at the bottom of the advertisements.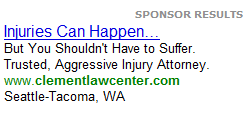 At first these advertisements were deemed as experimental and not much attention was given to them. However, it looks like Yahoo! has implemented this feature in its search advertisements for good.
Google has been using geographical display for search advertisements since 2004. Infact, Google has even experimented with providing exact addresses below the addresses.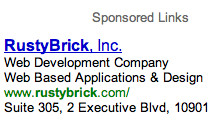 Later in the future, I hope Yahoo! does come up with something that hasn't already been introduced, used and discarded by Google. It's about time Yahoo! wake up and innovate.