In April last year, Yahoo! had taken the Site Explorer out of BETA and released it as a Yahoo! standalone Webmaster tools.
Now, according to the Yahoo! Search Blog, Yahoo! has finally given its Site Explorer the long overdue facelift with an entirely new interface, giving the Site Explorer an all new look and feel. You can check out the new Yahoo! Site Explorer here.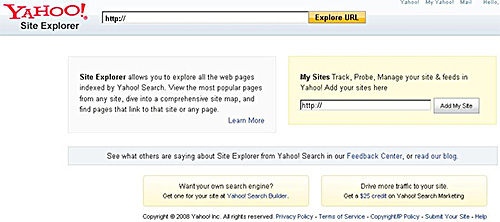 The new face of the Site Explore will enable Yahoo! to make compatible the features that it will be rolling out in the future with the new interface. The new interface also comes with a Site Summary page, that is aimed at providing the Webmasters with statistics for authenticated sites. Yahoo! has also increased the rules for Dynamic URL Rewriting that now reach to a maximum of 10 dynamic URLs. In order to enhance Webmaster feasibility, Yahoo! has placed the new Site Explorer at an all new URL, so that Webmasters can try it out, and can update their tools. Although, Yahoo! is planning give the new Site Explorer the "default" status in a shot period of time.
According to the Yahoo! Search Blog, "The new site is located at a special URL to give you some time to play around with it and update your tools that use our interface. We will make this the default experience soon, so please use this time to update your tools."