Yahoo! has made a change to the Yahoo! Shortcut.Yahoo! Shortcut appears at the top of the Yahoo Search results page when users search for a local business. It basically shows things like how many reviews or ratings a business has. With the change, Yahoo! went on to include links to information users tend to take interest in, such as actual text of the reviews, photos and driving directions. The content is displayed right on the search results page.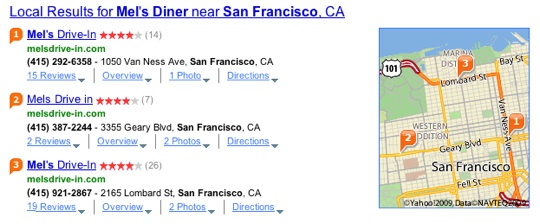 In the above snapshot, you can see new options appear in the form of tabs below the business entry. Users can read the reviews, see the photos or get driving directions by just clicking a tab. The enhancement in the Yahoo! Shortcut will help users see a selection of reviews and images for a business directly on the search results page. Yahoo! hopes this will save users lots of time and help them get required information in one place.
Did you enjoy this article?
Get FREE Updates
Get SEO, Social media and digital marketing updates straight to your inbox.