In the spirit of 2008 Summer Olympics in Beijing, Yahoo! has announced that, it is in the process of rolling out special shortcuts in Yahoo! Search that would be related specifically to information and news coverage of the 2008 Summer Olympics.
These shortcuts would be implemented in synchronization with the 'Torch Lighting' ceremony on August 8th. According to Yahoo!, "There will be a ton of Olympics-related information out there, such as breaking news, results and medal counts. The shortcut will help you get a real-time snapshot of what's happening in Beijing each day in one search."
Here are some sneak previews of the things to come as per Yahoo!:
"If you're looking for a quick update on medal counts, just search for 'Olympics medal count' and you'll see something like this (once the games actually start)"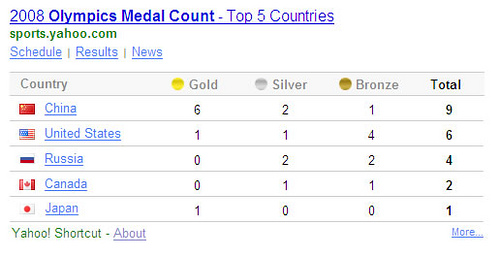 If you are looking for the medal count of a specific country, then you can run your search query as "'Country' medal count". According to Yahoo!, "If you're looking for info on a specific sport, like recent results and a schedule of upcoming events, do a search for 'diving + Olympics' and you'll see a shortcut like this:"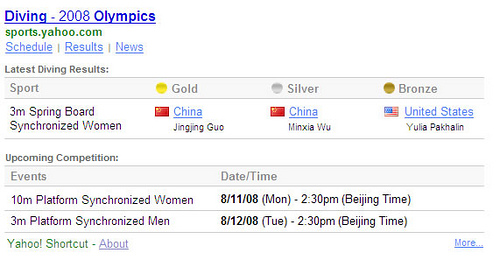 Athletic specific information can also be searched for by adding his or her name to the query.

According to Yahoo!, "With the Olympics shortcut, users can also play the news cast or interview video from Yahoo! Sports without leaving the search results page. And if you want to find out more information on a given topic, we'll of course include links to the relevant content on Yahoo! Sports as part of the shortcut. Try it with 'Olympics 2008' and click on the "Videos" link"