Yahoo! Made news when it launched the Go 3.0 Beta a couple of days back, see: Yahoo! Launches Go 3.0 Beta Featuring Open Mobile Widget Platform And A Redesigned Mobile Homepage. The latest from Yahoo! is the beta release of its personalised mobile portal.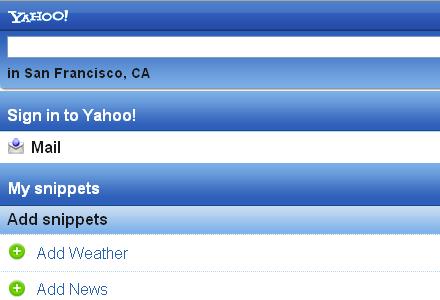 In the US the new mobile interface is available on most mobile phones which include Apple's iPhone, a couple of Nokia Series 60 handsets and Windows Mobile devices. The international rendering of services is to be rolled out in the next couple of months.
While there's nothing new about mobile portals as MSN, Google and Ask.com already have them for mobile users, Yahoo's portal offers a more customisable home page. The users can make use of Yahoo! Snippets and add them for weather, news, finance, sports scores and quick links on the page.
You can find a oneSearch bar at the top and below it Yahoo! Mail and Snippets. Additionally, the Quick Links lets you access your favorite sites in a jiffy. The Personalised Vitality and Status Updates let you add mobile widgets and othe applications, e-mail updates, updates on Flickr images and even allow you to access Yahoo! Messenger.