Yahoo! in partnership with McAfee has announced the release of SearchScan. It will show those URLs in the Yahoo! SERPs (search engine result pages) that are deemed 'risky'. This feature will incorporate McAfee's SiteAdvisor technology. The goal of this feature is to safeguard the user against spyware and other malicious software from being downloaded on his computers. It would also assist users to prevent themselves from spammy email practices. The SearchScan feature has been implemented in the BETA phase in the U.S., Canada, UK, France, Italy, Germany, Australia, New Zealand, and Spain.

The factors that would make the SearchScan deem a page as risky, are:
Harmful Downloads: Websites that provide users with harmful downloads. These downloads might carry viruses and spyware or adware. They can also be disguised as screensavers, games and in other forms too.
Unsolicited E-mails: SearchScan will notify the users and warn them against such websites that send unsolicited emails or share email addresses with third parties, without prior approval of the users/
Stealth Websites: Those websites that are capable of stealthily installing malware or can intentionally harm a user's computer would not be included in Yahoo's SERPs.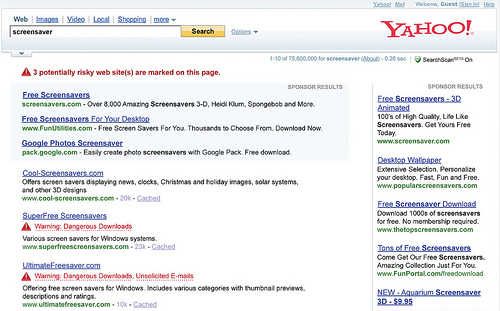 The option of SearchScan will be 'On' by default. However, it can be turned 'Off' by visiting Yahoo! Preferences.
The Internet is a great place to spend your time, learn in the process, connect and communicate. But, still there are individuals who are keen on pursuing malicious activities against the users who consider the Internet as safe. With this feature incorporated in the Yahoo! Search, Yahoo! Hopes to provide a cleaner and a better online experience to users worldwide.