It was somewhere around the month of May when Yahoo! acquired IndexTools.
Now Yahoo! is making use of their acquisition with a new service Web Analytics.
This new service is meant specially for the Business websites and offers real time graphs and reports that are specially meant for analyzing sales, traffic on a particular site as well as page views.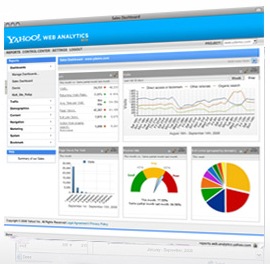 According to the official Yahoo! site:
"Born out of our acquisition of IndexTools in May, Yahoo! Web Analytics(beta) provides powerful data and insights reporting that help website owners evaluate their marketing performance and tweak their website designs. They'll get custom real-time reports and graphs that help them slice and dice metrics like sales, page views, and sources of traffic and ultimately identify ways to amp up their visitor satisfaction."
According to Jitendra Kavathekar, VP, Yahoo! Web Analytics:
"We're rolling the service out in phases for the remainder of 2008 and into next year. The first big deployment is Yahoo! Small Business, whose 13,000 hosted e-commerce customers can get set up just in time for the holiday shopping season at the click of a button. We have already started to roll Yahoo! Web Analytics out to advertisers who seek Yahoo!'s help to build custom micro-sites, as well as to third-party application developers who build widgets and other mini-apps for Yahoo! users via our developer network or our new Yahoo! Open Strategy tools.
Nothing is worse for site owners—and consumers—than bad marketing or a lousy user experience. Here's an easy tool designed to combat them… and fast."