Yahoo! has announced the launch of its new note-taking research tool, named Search Pad. With the new feature, Yahoo! intends to help users organize their research on the Web! The feature was first announced in February this year.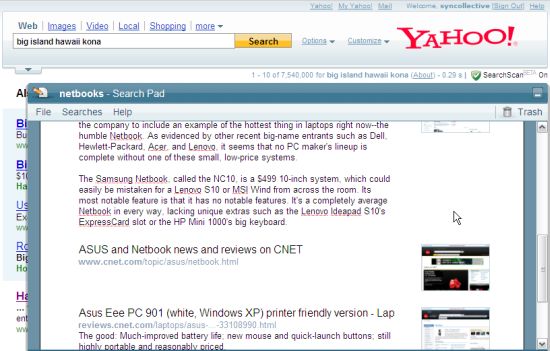 Search Pad aims at providing users with a simple tool to remember and organize their specific searches, so that they can go back to the data whenever they want. This helps save users any research they have done and they do not need to do the same searches again.
"Search Pad helps you track sites and make notes by intelligently detecting user research intent and automatically collecting sites the user visits. Search Pad turns on automatically when you're doing research, tracking sites to make document authoring a snap. You can then quickly edit and organize your notes with the Search Pad interface, which includes drag-and-drop functionality and auto-attributed pasting."- Yahoo!
Whenever you search anything using Yahoo! Search, Search Pad detects your research intent and asks if you would like to take notes. Then, it saves your research and lets you take note on the information you have gone through. You can save the notes using your Yahoo! ID, which means you can access your documents from anywhere on the Web.
"Search Pad can help you save your work across an entire session or even multiple sessions. Our intent detection allows us to offer Search Pad during sessions where it is most needed, and stay out of the way when it's not. Of course, you can also opt to use Search Pad directly at any point during your research."- Yahoo!
You can publish Search Pad document to a permanent URL to share with family and friends. It can also be shared on Facebook, Twitter, or Delicious. Yahoo! Search Pad has been rolled out in:
United States
Canada
Australia
New Zealand
Singapore
Malaysia
Philippines
United Kingdom
France
Spain
Italy
Germany
Brazil
Mexico
Argentina
Did you enjoy this article?
Get FREE Updates
Get SEO, Social media and digital marketing updates straight to your inbox.